When We Were Young - Part 2
Nov 12, 2022
---
---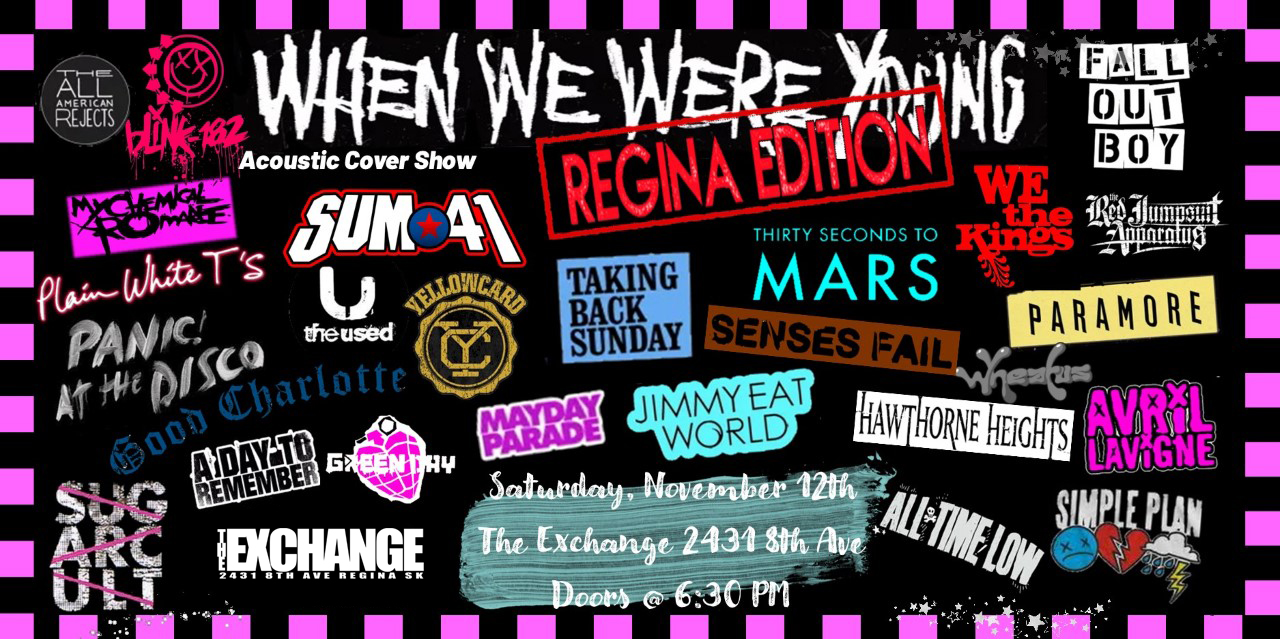 When We Were Young (Regina Edition)
Acoustic Cover Show performed by Matt Cudmore
Saturday, November 12
Doors 6:30 pm
Show starts 7:30pm
All Ages / Licensed
$10 tickets
The year is 2022.
Your hangovers now last a full week.
Your wardrobe no longer consists of solely skinny jeans (R.I.P.)
And you've realized Pete Wentz wasn't actually that good looking after all.
Was it a really just a phase?
No! Because anytime Sugar, We're Going Down comes on you can't help but sing every word. And when you saw the lineup for When We Were Young you felt a rush you haven't felt since Warped Tour came around.
The only problem is it's in Vegas, and it's sold out.
If you're one of the poor unfortunate souls who missed out on tickets, or couldn't make it, we got your back!
Presenting: When We Were Young, Regina Edition!
This show features the biggest songs from some of your favorite pop-punk and emo bands of the early 2000's, transformed into acoustic sing-alongs for a night of pure nostalgia. Expect nothing less than a crowd full of people who aren't afraid to belt out the words to every song at the top of their lungs. And if you need a little help loosening up the old vocal cords, liquid courage will of course be available.
So bust out your blackest eyeliner, warm up your voices, and join us for a night of songs you couldn't forget if you tried!
Doors open at 6:30PM
Show starts at 7:30PM.
All ages.
---
About the Exchange
Proof of vaccination is no longer required.
Masks are encouraged.
The Exchange is wheelchair accessible and offers 2 non-gender/wheelchair-accessible washrooms.
The Exchange is an all-ages venue that supports the Safer Spaces Initiative. We do not tolerate any form of harassment, abusive and/or discriminative behaviour. Such behaviour is grounds for immediate removal from the event/venue. If you are experiencing any harassment please ask to speak to a manager.
Prices include taxes and fees - line ups subject to change - no refunds or exchanges
---