When We Were Young Acoustic Show(Regina Edition)
Sep 10, 2022
---
---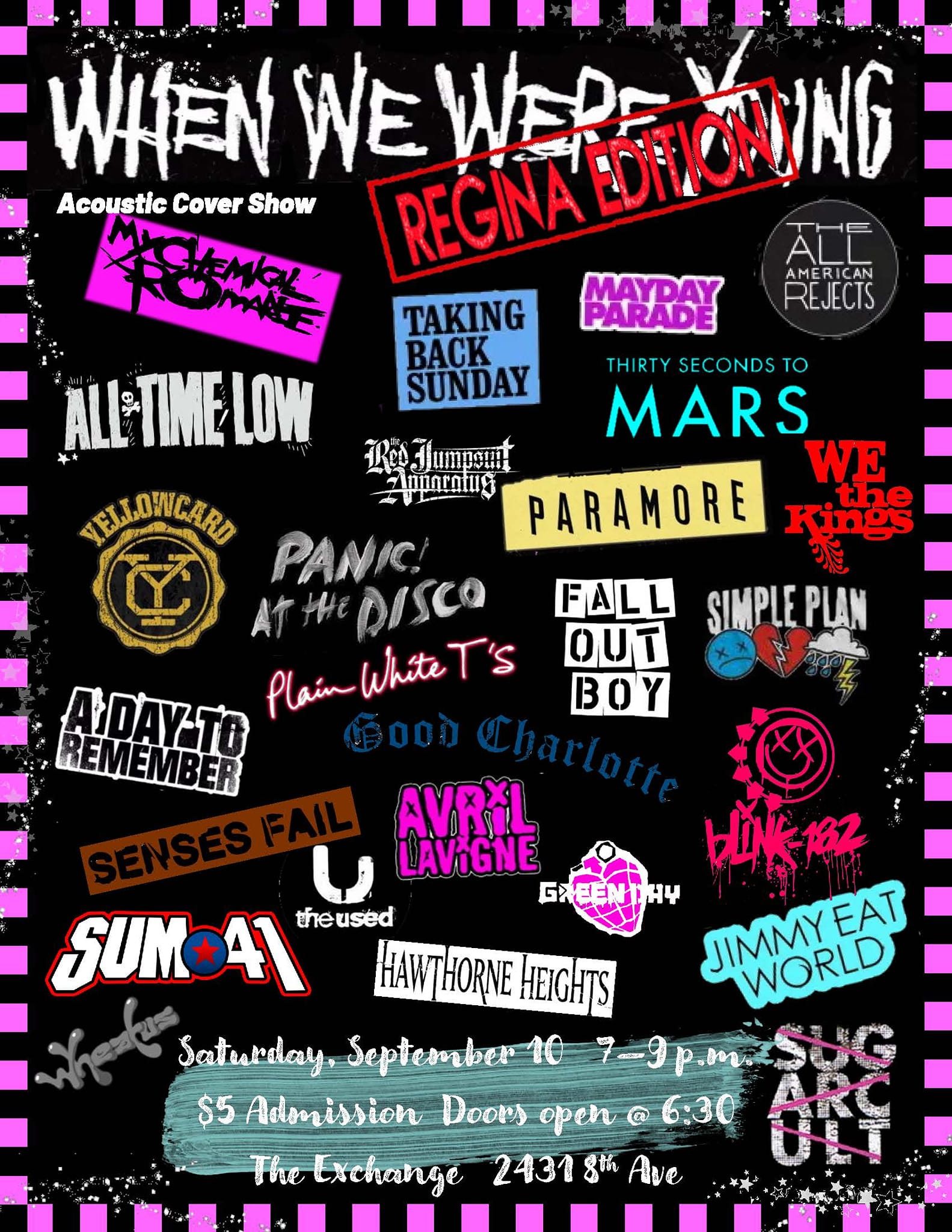 When We Were Young (Regina Edition)
Acoustic Cover Show performed by Matt Cudmore
Saturday, September 10
Doors at 6:30 pm
All Ages / Licensed
$5 at the door
The year is 2022.
Your hangovers now last a full week.
Your wardrobe no longer consists of solely skinny jeans (R.I.P.)
And you've realized Pete Wentz wasn't actually that good looking after all.
Was it really just a phase?
No! Because anytime Sugar, We're Going Down comes on you can't help but sing every word. And when you saw the lineup for When We Were Young you felt a rush you haven't felt since Warped Tour came around.
The only problem is it's in Vegas, and it's sold out.
If like me you're too poor, busy, or slow to make it to the real thing, I got your back!
I present: When You Were Young, Regina Edition!

I've handpicked the biggest songs from some of our favourite pop-punk and emo bands of the early 2000s and transformed them into acoustic sing-alongs for a night of pure nostalgia.
I expect nothing less than a crowd full of people who aren't afraid to belt out the words to every song at the top of their lungs. And of course, liquid courage will be available for all those of age.

Doors will open at 6:30, the show will start at 7 and end roughly around 9. There is some seating, but it will be mostly standing room, with a somewhat limited capacity, so show up early If you're worried at all.
It's all ages so the next generation of Emo's can attend, but please, no babies/toddlers (that's not the kind of screaming I'm looking for).

I've been busting my butt working on these songs and have a few friends joining me throughout the night to keep things interesting, so I promise you won't regret using your one monthly excursion on this.
So bust out your blackest eyeliner, warm up your voices, and join me for a night of songs you couldn't forget if you tried!
About the Exchange
Proof of vaccination is no longer required.
Masks are encouraged.
The Exchange is wheelchair accessible and offers 2 non-gender/wheelchair-accessible washrooms.
The Exchange is an all-ages venue that supports the Safer Spaces Initiative. We do not tolerate any form of harassment, abusive and/or discriminative behaviour. Such behaviour is grounds for immediate removal from the event/venue. If you are experiencing any harassment please ask to speak to a manager.
---