The Black Halos, The Real Sickies
Sep 22, 2023
---
---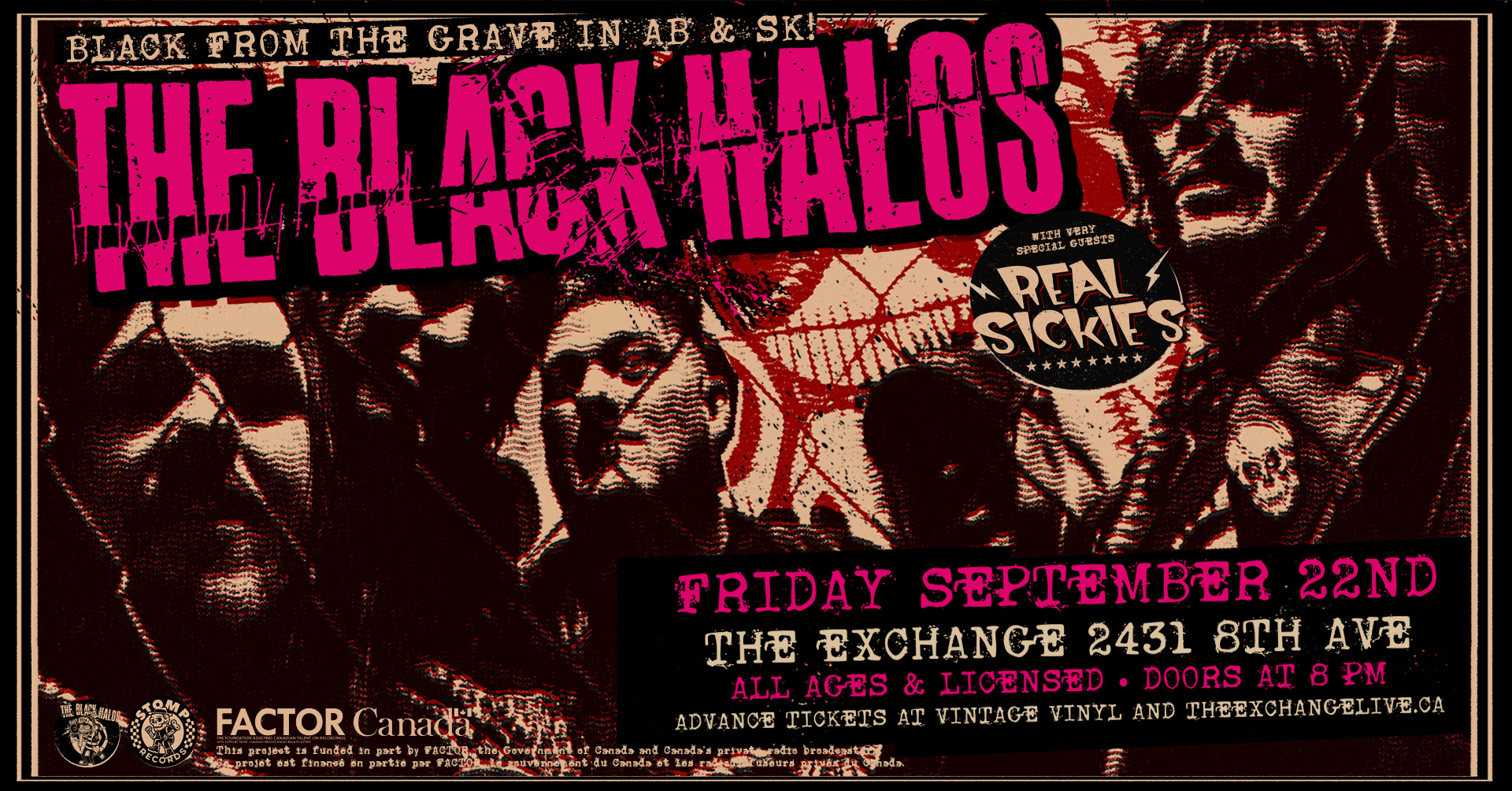 Friday, September 22nd
The Black Halos
The Real Sickes
The Exchange • 2431 8th ave
All Ages & Licensed
Doors at 8pm
$25 adv • $30 Door
The Black Halos
The Halos are back in Black! Formed in the underbelly of the Vancouver punk music scene in 1994, the band was a sneering, snotty, slap in the face to the Seattle grunge scene. Their raucous live shows, particularly an electrifying performance at Seattle's Rock Candy, garnered the attention of Sub Pop's Jonathan Poneman, and they promptly signed to Sub Pop imprint Die Young Stay Pretty.
The new album, recorded in Toronto and mixed by Dave Draper (The Wildhearts, The Professionals), is a return to form for the band. Rich explains "Reuniting with Billy and Jay for this new album brought my focus back to writing with a mindset that was pure, uncompromising Halos - as far as I'm concerned we've really achieved it. Having our friends John and Danni on board makes this feel like the strongest lineup that we've ever had and you can really hear it on this record. Additionally, Billy and I had always planned to call the third album How The Darkness Doubled. So it seemed natural to use that title now, 20 years later, for what I consider to be a spiritual follow-up to The Violent Years."
How The Darkness Doubled is a relentless, high-octane blast of classic Halos punk rock 'n' roll!


www.facebook.com/TheBlackHalos
The Real Sickies
Old school rock in the vein of Teenage Head and the Ramones.
www.facebook.com/therealsickies/
About the Exchange
Proof of vaccination is no longer required.
Masks are encouraged.
The Exchange is wheelchair accessible and offers 2 non-gender/wheelchair-accessible washrooms.
The Exchange is an all-ages venue that supports the Safer Spaces Initiative. We do not tolerate any form of harassment, abusive and/or discriminative behaviour. Such behaviour is grounds for immediate removal from the event/venue. If you are experiencing any harassment please ask to speak to a manager.
Ticket price plus taxes and fees - line ups subject to change - no refunds or exchanges
---