The Wild!, W3apons, Excuses Excuses, Dead Levee
Nov 1, 2019
---
---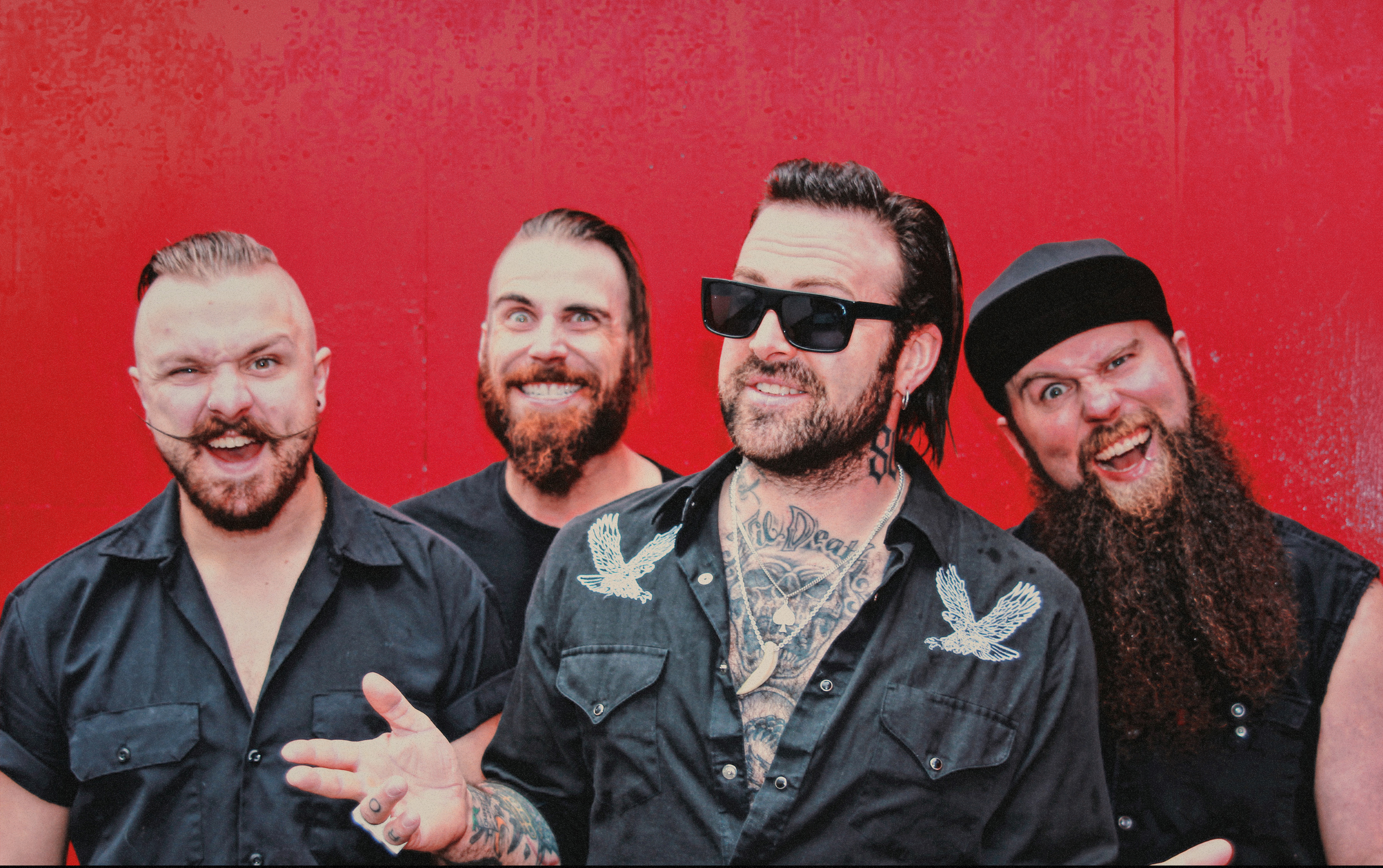 104.9 The Wolf Presents:
The Halloween Howl.
Shooting guns, setting fires and shaking shacks with half-stacks make for the type of nights that separate the men from the boys and THE WILD! from the other 99% of what some people are calling rock'n'roll these days. Anybody who's ever been told to turn it down, clean it up or to go home lives inside of what the God Damn Wild Boys are all about. Driven by long, hard nights, the love of playing music, rural roots, and a no-bullshit mentality, THE WILD! play the soundtrack for freedom seeking renegades & real deal rock'n'rollers alike.

Meet THE WILD!
On vocals/lead guitar, DYLAN VILLAIN embodies all of the reckless abandon and good-natured devilish charm that could only be born in a very small backwoods community. Counterbalancing VILLAIN's snakebite rasp is bassist/vocalist BOOZUS. Beer drinkin', beard havin', fly-fishin' are his favourite past times.
Kickin' ass & keeping time is drummer REESE LIGHTNING. A beast with beats & everyone's favourite asshole. You'll love him! Rounding out THE WILD!'s lineup is "The Kid" on rhythm guitar and backing vocals. Young blood and zero fucks given. What The Kid lacks in age, he makes up in attitude and swagger.
"I feel like for every thousand bands that are out there right now you'll get maybe ten that believe the things they're singing about, which is the most important thing to me in any genre," says VILLAIN. "I don't give a shit what kind of music you play. If you care about it then really give yourself to that moment. Our fans aren't stupid and I feel that they're hungry for things that aren't so disposable."
So,...What do they sound like?
Take the gritty authenticity of the Delta Blues and speed it up with a reckless punk rock attitude. Now roll that into a southern rock cigarette. You feelin' that yet? Throw that shit into 5th and tighten your grip around the neck of your electric guitar. The result is THE WILD!
That's exactly what THE WILD! gets up to on their debut release, 'GxDxWxB'', which stands for 'God Damn Wild Boys'. Produced by Mike Fraser (AC/DC, Aerosmith, Jimmy Page, Van Halen) at a pair of legendary studios (Warehouse/Armoury) in Vancouver, 'GxDxWxB' summons all the unbridled howls, raw melodicism, streetwise attitude & aggression from all the influences and vices that make THE WILD! who they are.
"Even underneath the loud guitars you can hear the love for the blues in our songs," declares vocalist/lead guitarist DYLAN VILLAIN. "We believe in music with conviction. THE WILD! is a mixture of what the blues feels like, rock'n'roll sounds like, and punk-rock smells like."
"We've generated a lot of interest in rock'n'roll here in Canada," says DYLAN VILLAIN. "And now we're looking forward to sharing our sound with the rest of the world. We really hit the nail on the head with what we wanted to do with this band. I feel that there's a lot of bands out there that try to do this or that, but we don't try to do anything. We just do."
---
W3apons
W3APONS is a Canadian Rock trio from Saskatoon, SK. The band's debut single "Off the Top of My Heart" was co-written with Clayton Bellamy (The Road Hammers), Colin MacDonald (The Trews), and John-Angus MacDonald (The Trews). The band continued their relationship with John-Angus by enlisting him to produce the track. The result was a song reminiscent of AC/DC and Bryan Adams - yet entirely modern and unabating with its hooks. "Off the Top of My Heart" has received national radio play since its release on May 11, 2018, and has received over 200,000 streams on Spotify, grabbing attention of audiences from Canada, United States, Australia, England, and Central Europe.
The band began its life on the road. Seasoned performing and recording drummer, Tallus Scott (Jordan Cook aka Reignwolf, Mitch Larock and the 4:54 Band, Young James, Violent Kin), and emerging rock guitarist and vocalist Jordan Welbourne (2017 FACTOR Artist Development Recipient), joined forces with the intention of showing the world what they believed rock and roll was about. A long time friend, and hidden treasure of a musician, bassist Myk Ulan, proved to be the final ingredient in the perfect storm that is W3APONS - Energetic, Hard-hitting, and unmistakably Rock & Roll.
www.facebook.com/W3APONSmusic
https://instagram.com/w3aponsmusic
---
Excuses Excuses

Overflowing with attitude, Excuses Excuses is an alternative/punk rock band from Ontario, Canada. Packed with raw passion, energy, and a hint of good ol' Canadian grit; the trio, comprised of guitarist/vocalist Kyle Wilton, bassist Trevor Bowman and drummer Jason Nicoll, is driven to empower millennials to find strength in self-expression and individualism, and encourages people to live their lives to the fullest potential in our restrictive, modern society. Since their fruition 2016, the band has been developing their version of punk-infused alternative rock inspired by Canadian modern-punk bands, like PUP, The Flatliners, and The Dirty Nil, along with all your favourite stadium rock bands like Green Day, Billy Talent, My Chemical Romance, and Foo Fighters.
Over the past two and a half years of being a band, Excuses Excuses has self released two EPs, rendering them multiple top ten spots on Earshot! charts throughout the country, landing them on CBC radio, and helping them grow their following and online presence immensely. After sharing the stage with a few influential Canadian acts, such as Bleeker, Scenic Route To Alaska, MONOWHALES, cleopatrick, Texas King, and We Were Sharks, and finishing their education; they decided to release their sophomore EP, Catch Me If You Can, on June 1, 2018 and hit the road to work on building rapport in the industry in addition to honing their skills as a live performing act. In the past year, the band toured extensively throughout Central Canada and Canada's East Coast, playing over 75 shows in roughly 25 cities.
On their sophomore EP, Catch Me If You Can, they build on the creative foundation laid down on their 2016 five-song debut release Frame Of Mind, and the ensuing year spent honing the band's incendiary live show. Catch Me If You Can's six songs also mark a coming of age of sorts for Excuses Excuses, as— having left their teenage years behind—the band delves into more complicated lyrical themes and, by extension, an overall harder hitting sound. Recorded at Chalet Studio north of Toronto with producer Justin Meli and drum consultant Jordan Gauthier (YC Drum Company), the songs took shape around Nicoll assuming a full-time role in the band and represent the first true examples of Excuses Excuses' uncanny ability to balance raw power with impeccable melodicism.
"There was a lot of learning, adjusting, and evolving occurring since our first EP," Wilton says. "Trevor and I have been writing songs together since we were 15, so we naturally share similar influences. Jason's influences added a bit more straight-forward rock flavour to the mix, and we were also greatly inspired by the bands we've played with. The bottom line is we wanted our new material to sound more powerful, and more versatile at the same time."
While each song on Catch Me If You Can contains deeply personal reflections on the state of the world, "Rebel Without a Clue" and the title track best represent the EP's overarching message of empowering members of their generation to find their own path rather than following society's norms. As Wilton explains, "The EP is a commentary between a soul-seeking character and their own conscience, contemplating life changes, mental illness, drug abuse, and the uncertainty that revolves around becoming adults in today's restrictive society."
Indeed, although there has been much hand wringing about the decline of the electric guitar within the overall music scene, Excuses Excuses are eager to join the ranks of Canadian bands such as July Talk, PUP, and The Dirty Nil proudly cranking it up to 11 on the international stage. Catch Me If You Can is their entry into that conversation, and now that they are on their way, there will be no looking back.

https://www.facebook.com/OfficialExcusesExcuses/
---
Dead Levee
Dead Levee is a Gritty Rock N Roll band based out of Regina, Canada. Founded on December 1st, 2017. Members of Dead Levee have a signature look: tailored jackets, leather over coats, denim tuxedos, silk scarfs, bandanas, ripped jeans, leather boots, collared shirts and of course converse.
During February of 2017, A house on Garnet Street in Regina was overtaken by the notorious Blonde Haired Vagabond "Dane Von Hagen" (who at the time was part of band known as "Private Drive"). The house on Garnet Street was "the jam spot" for an infamous band the "Outskirts". Upon Dane's arrival a music based connection between founding members of Dead Levee was created.
The boss himself "Rylan Kalaptiuk" / slick fingered slide player "Rylan Dusyk" / former bass man "Parker Cochrane" / Singer "Dane Von Hagen" became highly organized with their own systems of hierarchy & monkey business. Their excessive tendencies & love for music led to vast amounts of late night jams and house parties. Upon the discovery of an amazing drummer (at some house party) a hard hitting & kind hearted kid "Preston Laschuk" the final piece was set in place.
Although, this initial interaction led Dane & the members of the "Outskirts" to become rivals. On December 1st of 2017, nearly nine months after their last party, the rivalry would lead to a truce, ultimately spawning a whirlpool force creating the current group "Dead Levee".
Dead Levee holds various styles of music in almost every pocket circa 1970. Throughout the course of the last 12 months Dead Levee has written and recoded their self titled Debut Album. Shortly there after the boys hit the road for their first ever "Tour" travelling across Central Canada.
Along their travels Dead Levee came across a wild little circus boy known as "Tayler Morgan" A.K.A. Chet O'Ridd-Lee, whom was initially brought along as an opening act, but in no time found a place performing on stage and in studio as a full time member playing bass, piano, and even taking lead vocals at times.
Dead Levee is currently recording their second album at "Studio One" in Regina. Which is being produced by long time friend, Scott Pettigrew. The album release date is set for the spring of 2019, along with an extended period of tour dates to follow. The future of Dead Levee consists of many months on the road, reaching new goals and pursuing a career in the music industry; building experience, fans and friends along the way.
www.facebook.com/deadlevee
https://instagram.com/deadlevee
---
Advance tickets available at Vintage Vinyl, Madame Yes, and online at theexchangelive.ca
Friday November 1
All Ages - Licensed
Doors at 7:30pm
---