The Aunty Show hosted by Zoey Roy with Kris Alvarez, Annie Brass, Tai Reign, Raven Sage, plus Artist Market - Winterruption
---
---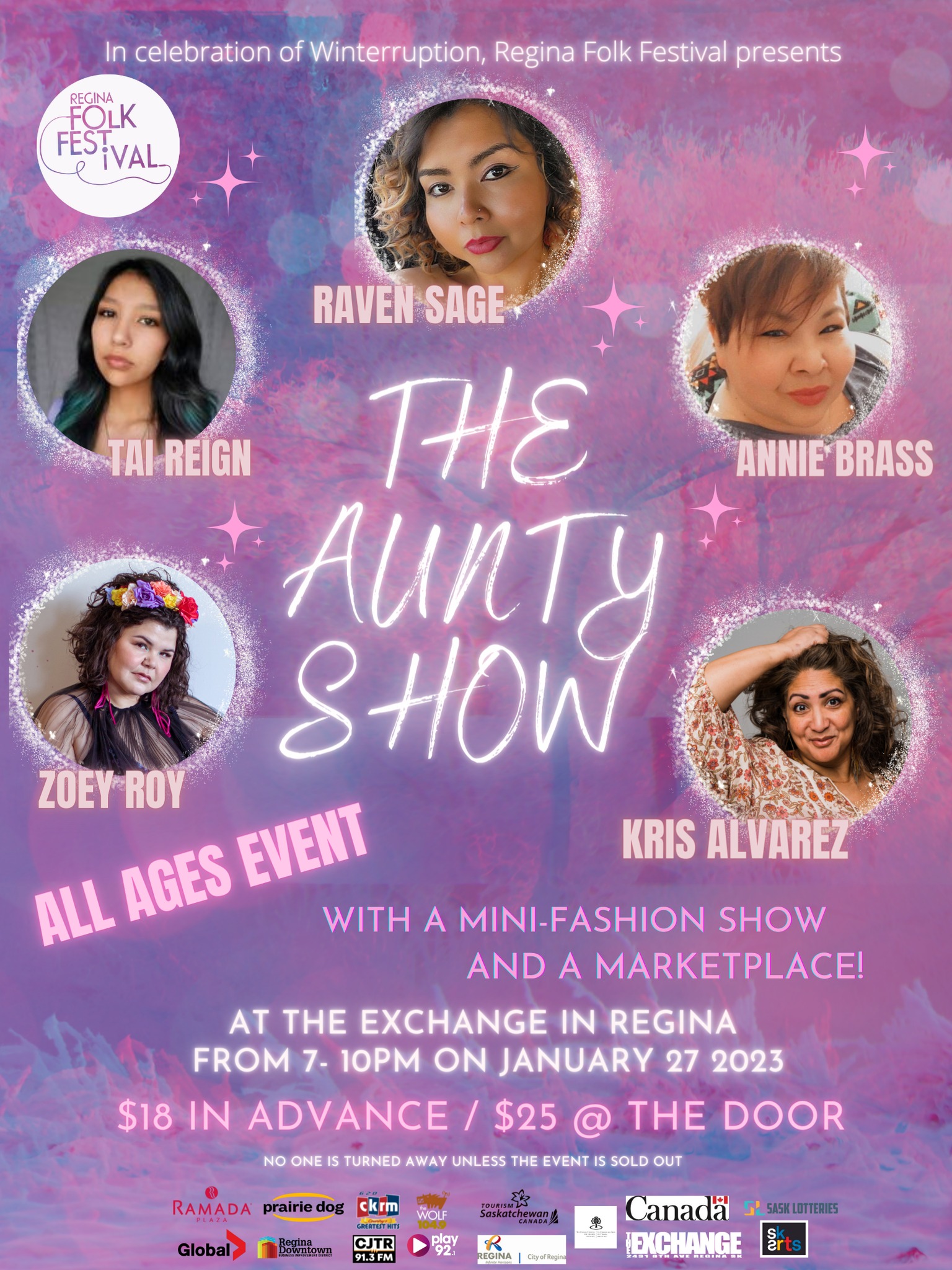 Regina Folk Festival Presents: The Aunty Show
Friday, Jan 27th
The Exchange 2431 8th ave
Zoey Roy
Kris Alvarez
Annie Brass
Tai Reign
Raven Sage
plus Artist Market
Doors @ 7:00PM
Show @ 8:00PM
Advance Tickets $18 + Door Tickets are $25. Please note that no one will be turned away from this show unless it is sold out.
Combo of Pierre Kwenders (at the Artesian the same night) & The Aunty Show $45
All Ages
Please note that this is a dry (alcohol-free) event.
Join us for The Aunty Show, a unique evening curated and hosted by Zoey Roy featuring the amazing, multidisciplinary talents of Kris Alvarez, Annie Brass, Tai Reign and Raven Sage.
There will be a mini vendors market on site!
Get excited for our fun mocktail drink menu! Please note that this is a dry (alcohol-free) event.
------------
This show will offer a mix of seating and standing room.
All Ticket holders must be prepared to show ID at the door.
Lineup and schedule are subject to change.
NO EXCHANGES OR REFUNDS.
Masking is required at all shared, indoor spaces at the Regina Folk Festival. Information on the Regina Folk Festival's COVID-19 Procedure can be found here: https://reginafolkfestival.com/covid19procedure
------------
ZOEY ROY
Artist. Activator. Aunty. Zoey Roy is a rebel with a cause.
A humorous presenter and a luminous storyteller, Zoey offers practical wisdom for living well amongst the violence of settler colonialism. A lover of words, having fun and synthesizing knowledge, she has spent most of her life traveling the globe sharing her gift of gab through performances, keynote presentations and workshops. Zoey is a hip hop inspired poet with an insatiable appetite for learning and growing. Nehithaw-Dené and Michif, Zoey is a citizen of Peter Ballantyne Cree Nation in Northern Saskatchewan and is based in Kingston ON where she lives with her partner.
KRIS ALVAREZ
Kris is a theatre artist, a Regina monologue, a brown kid grateful for the village who raises her. She is privileged to build relationships in artful ways (Curtain Razors, Fadadance, Artesian, Globe Theatre, Common Weal).
Kris performs in other people's work (Bad Blood, Carmen Angel), makes her own work (What Kind of Brown Are You, Burnt Sienna), and moments before the pandemic, she was humbled by life-inspiring experiences (Reasonable Doubt).
Through the pandemic & onward, Kris continues… in film (Donkeyhead, Karma Films / Agam Darshi), in parks (The Other Side of the River, Sum Theatre), on TV (ZARQA, CBC Gem), onstage (Making Spirits Bright – Globe Theatre) and in creation (Acknowledging).
ANNIE BRASS
Annie has always been gifted for telling humorous stories, and making light of life's daily challenges. It is through this talent that she has been able to channel her energy to Stand-Up Comedy. Annie's unique style along with upbeat & zany antics keeps her audiences howling with laughter. Annie has performed at Wellness Conferences, Community Gatherings and Fund-Raising Events, where her humor and style made lasting impressions.

Annie's most notable performances include the 2005 Healing out Spirits World Wellness Conference in Edmonton, Alberta, and her 2008 National Television appearance on the CBC Reality TV Special – The Last Bannock Standing with the Bionic Bannock Boys. In 2019 Annie made CBC National top 100 Comics. Most recently Annie was featured on IndigE-Girls Comedy Show "Aunties say the Deadliest Things"
TAI REIGN
Tai Reign is a Two-Spirited poet from Peepeekisis Cree Nation raised in Regina, Sk. They first discovered poetry as a therapeutic outlet, since they've realized how powerful words can be. Now they use poetry to share their experiences, world view and make sense of the hardships they've experienced.
RAVEN SAGE
Raven Sage is a Cree, Saulteaux and Sioux artist from Saskatoon, Saskatchewan. She began performing at a very young age, and was first introduced to professional dancing with the Saskatchewan Express, where she studied ballet, jazz and contemporary dances. She also studied singing and acting, that lead to her role as "Raven" on Wapos Bay. She was part of the ensemble that won a Gemini Award in 2008. Raven Sage was also one of the kids that attended the annual summer camps at the Gordon Tootoosis Nīkānīwin Theatre, formerly known as the Saskatchewan Native Theatre Company. Around 2008, Raven Sage began writing and performing her own songs, she has written enough material to record an EP. Raven has performed some of her music at The HillBilly Boogie Music Festival, The Cure, Mercury Cafe, and amongst other places. In the late summer of 2021, Raven Sage returned to her first love…theatre. She played the part of "Elaine," in Jennifer Dawn Bishops "Shadows Among The Prairies."

Currently, Raven is involved in podcasting for pîkiskwêwin, at the First Nations University of Canada. She plans on releasing an EP in the new year.
The Exchange is wheelchair accessible and offers 2 non-gender/wheelchair-accessible washrooms.

The Exchange is an all-ages venue that supports the Safer Spaces Initiative. We do not tolerate any form of harassment, abusive and/or discriminative behaviour. Such behaviour is grounds for immediate removal from the event/venue. If you are experiencing any harassment please ask to speak to a manager.


---