Strung Out, Death By Stereo - NEW DATE April 23 - 2021
Apr 23, 2021
---
---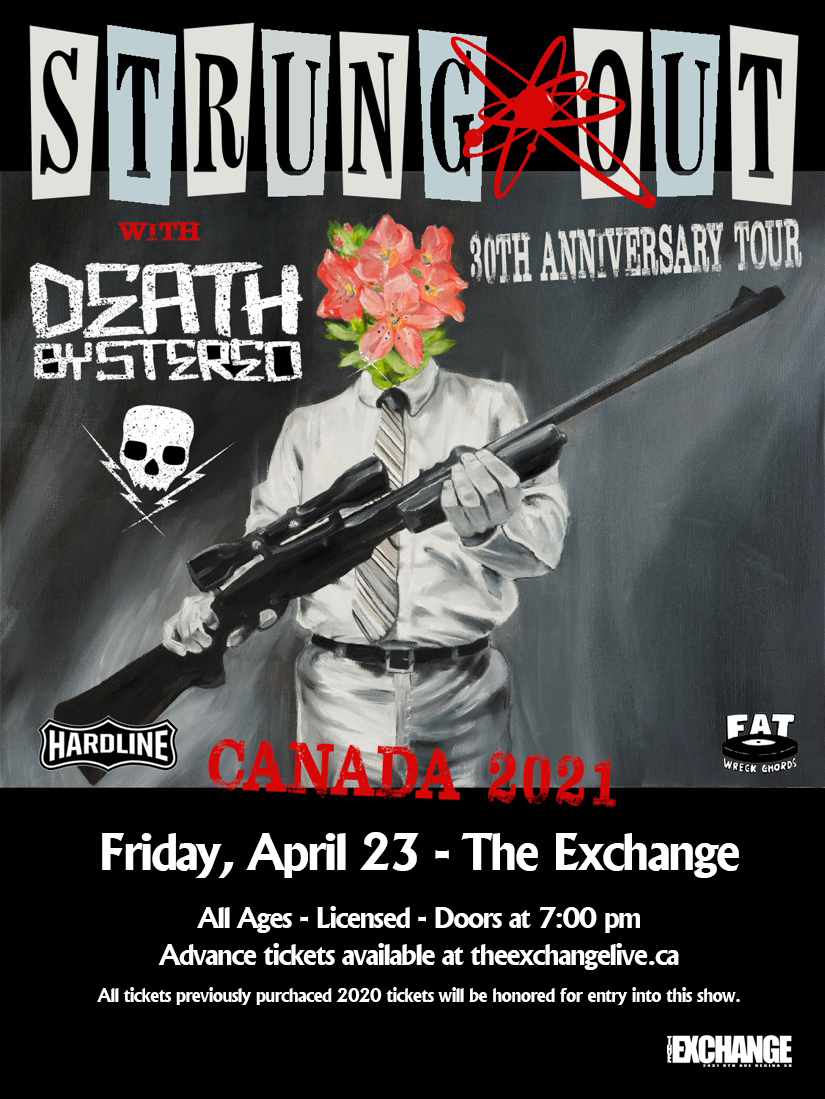 *Strung Out - Death By Stereo Update*
"In consideration of the health and safety of our fans, and those involved with promoting our tour, we will be postponing our Canadian tour with Death By Stereo to April-May 2021. Previously purchased tickets will be honored for all rescheduled shows. "
New Regina date Friday, April 23rd, 2021
We have opened up 50 more tickets for sale.
Available online only at www.theexchangelive.ca.

The Exchange
All Ages, licensed, Doors at 7:30 pm
Advance tickets available at Vintage Vinyl and online at theexchangelive.ca
Strung Out

If you listened to Songs Of Armor And Devotion with no prior knowledge of Strung Out, you probably wouldn't guess that the California band has been together for almost 30 years – such is the intensity and fresh energy of these 13 songs. Produced by Cameron Webb, who was behind the helm of 2009's Agents Of The Underground, it's a record that brims with the same ferocious fire the band had at the very start of its career when frontman Jason Cruz was still a teenager, but which also demonstrates how far the California five-piece have evolved as songwriters, musicians and people.
"I don't want to be 19 years old again," says Cruz, "but the fact that we still have that energy, but we're not 19 years old is a real feather in our cap. We're older, but I'm so grateful that I still have a lot to do. I hope people hear this record, and they know that we're not tired, that I still have ideas."
You can hear how that is – how true that still is – from the beginning to the end of Songs Of Armor And Devotion. It's a punk record, but it's also much more than that. It's a political record that addresses the state we're in, but at its core is a heart and humanity –and a belief in that humanity – that overrides everything else. It's pain and sadness and hope and rebellion all wrapped into one powerful statement that also serves as a culmination of the band's three decades together. And while the record sees Strung Out still writing at the height of their abilities, at the same time, when Cruz reflects back on these songs, he thinks they represent something monumental for the band, even if he's not entirely sure what that actually is.

"I find that it's time for a new adventure," he says. "I feel like I've given what I needed to give to Strung Out. I feel like we did what we needed to do and it's time to move on. I've grown. I'm not angry like I used to be – I feel like this was the end of something, and now it's time for a new life. I look back on the record and I think 'Done.' For me personally, it's a new beginning. We still have a lot left and as long as we listen to each other and we care about what each other has to say, I don't see an end for Strung Out. I just don't want to repeat things that I've done. I can't write like that anymore."
http://strungoutofficial.com/
https://www.facebook.com/strungout/

Death By Stereo

Since their inception in 1998, DEATH BY STEREO has been balancing consciousness and chaos with their unique genre-bending amalgam of hardcore, metal and punk. Previously, the band released their last five studio records via Epitaph, Indecision and Serjical Strike Records.
DBS, as they are known by many of their loyal followers, have assembled a worldwide fan base built upon a seemingly endless international tour schedule, with enough passport stamps to make many of their contemporaries jealous. They have shared the stage many times over with the likes of Slipknot, AFI, Serj Tankian, Avenged Sevenfold, and Rise Against, just to name a few. They have headlined some of the biggest and best festivals around the world (Germany's "With Full Force", Belgium's "Grozerock", U.S.'s "Warped Tour" and Colombia's "Rock Al Parque"). Having toured in over 20 countries is an accomplishment few bands of any stature can lay claim to.

https://www.facebook.com/deathbystereo/
---