Double Feature Friday - Shuffle Demons w/ Kaitlyn Kasha - June 14
Jun 14, 2019
---
---
50.4564921;-104.61552979999999;2431 8th ave regina sk s4r 5j7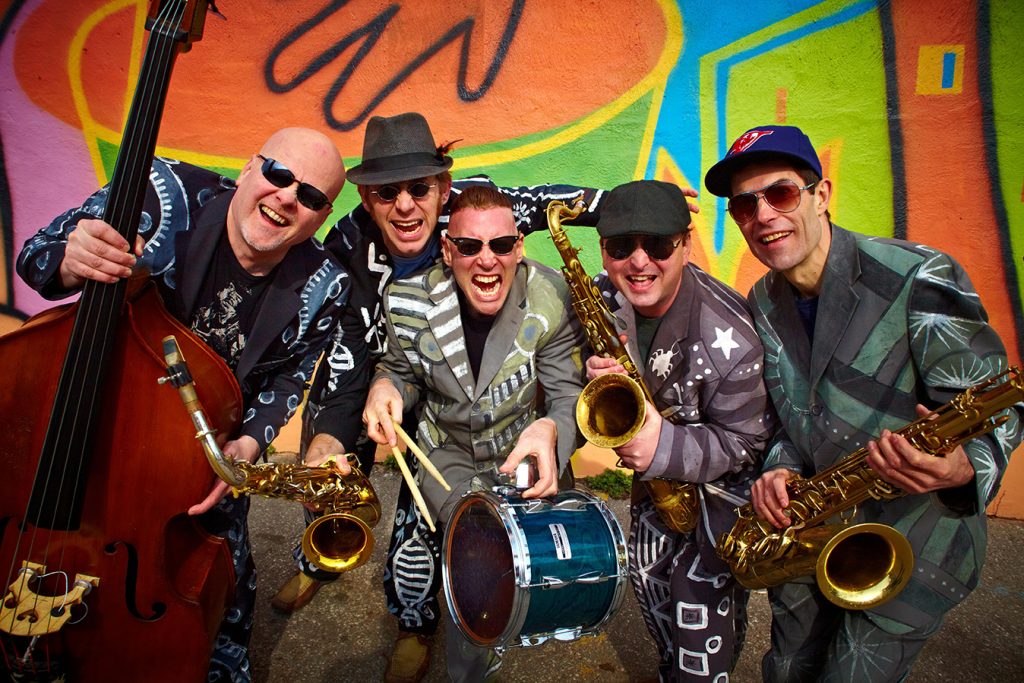 THE SHUFFLE DEMONS
Featuring: Richard Underhill (alto saxophone, vocals), Kelly Jefferson (tenor saxophone, vocals), Ryan Oliver (tenor saxophone, vocals), Pat Collins (acoustic bass, vocals), and Stich Wynston (drums, vocals).
What do you get when you cross 3 amazing saxophonists dressed in wacky clothes, a crazy dancing drummer and a killer upright bass player and have them sing songs about Buses, Roaches and Hockey and spend 1/2 their time playing in the audience? The Shuffle Demons, that's what!!! They were a band that captured the imagination of a generation with their antics and amazing no holds barred playing and stopped traffic on a regular basis. And now they're back!!
The Shuffle Demons are a high-energy Canadian band that blends virtuosic jazz and funk playing with eye-catching costumes and over the top stage antics to produce an incredible show. A hit at festivals all over the world, the Shuffle Demons are a crowd pleasing, full-on musical group that backs up wild stage antics with phenomenal playing by some of Canada's most talented musicians.
The Shuffle Demons first broke onto the Canadian music scene in 1984 with an electrifying musical fusion that drew in equal measure from Sun Ra, Charles Mingus, Run DMC and the Beastie Boys. This band is genre bending, highly visually entertaining, funny, and best of all, can really PLAY. All their eye catching, crowd-pleasing stunts are backed up by incredibly solid musicianship and real groundbreaking playing.
The band has toured extensively in Europe and around the world and has played at the Molde, Oslo, Stockholm, Lund, Pori, Birmingham, London, Edinbourgh, Montreal and North Sea Jazz festivals, Jazz a Vienne, Outside In Jazz Festival, the Yokohama Jazz Promenade (Japan's biggest Jazz Fest), on the Barenaked Ladies Ships and Dip Cruise, at the Bangkok International Festival of Music and Dance, at the Taranaki Arts Fest and the Dubbo Jazz Fest in New Zealand and Australia, the Jarasum Jazz Festival in South Korea, the Zacatecas Cultural Festival in Mexico, the Beijing Jazz Festival, in India, the USA, Cuba and all across Canada.
Over a twenty eight year span the Shuffle Demons have released eight CDs, two hit videos, won several music awards, done numerous TV and radio appearances and toured nationally and internationally including 20 cross Canada tours, 5 US tours, 16 European tours, a tour of India, a tour of China, Japan, Thailand, South Korea, Australia, New Zealand, Mexico and Cuba playing on big festival stages, theatres and clubs.
The band continues the tradition today with a great line-up of players that includes Juno Award winner Richard Underhill -sax & vox, Ryan Oliver and Kelly Jefferson – saxes, Pat Collins – bass and Stich Wynston – drums. Expect the same exciting, no holds barred performances that feature wild romps in the crowd, free jazz moments, danceable funk, poetry, killer solos and more. Their most recent CD 'Clusterfunk' features 12 new compositions that will be sure to please long time fans and new listeners alike.
But who are these debonair ruffians, these satirical streetniks of stage, screen, and sidewalk… these Cartoon Hepcats with the cracked conviction of 5 Harpo Marxes? How did they start spreading shuffle ecstasy, only known antidote to seriousness in Canadian music? And is it really 23 years since the Demons first took the Spadina Bus??
The legend of the Shuffle Demons is well known to Canadians. Beginning in September 1984 with veteran street sax player Demon Richard Underhill pleasing the pedestrian multitudes at the corner of Yonge and Bloor in Toronto, the Shuffle Demons quickly evolved into an immensely popular street band. Drawing hordes of hipsters to their street gigs with their wild playing and exotic wardrobe, the original Demons (Mike Murley, Stich Wynston, Jim Vivian, Dave Parker and Richard Underhill) next took their caustic collection of musical majesties and travesties inside and began pleasing bunches of boppers in Toronto clubs. Inspired by these fashion assassins and their original street hits Spadina Bus, The Shuffle Monster, Out of My House, Roach, and What do you Want? large delirious audiences began experiencing the early stages of shuffle rapture.
Looking to broaden their horizons, on May 12/85 the Shuffle Demons embarked on a 3-month whirlwind street tour of Europe. They played in clubs and music festivals in Germany (incl. East Berlin-close call with serious border people!), Italy and France and on the streets of 10 European countries.
Upon their return, these flagrant flag bearers of folly stormed the stages of the land, their newfound Gimi-wear (named after their Parisian/Gambian tailor) inspiring occasional attacks of ocular indigestion among the uninitiated. Their popularity continued to grow, and with it burgeoned the newly formed society of streetniks. With this support, the Shuffle Demons released their first album 'Streetniks'.
Then things got really crazy! In 1986, John Gunn and Rob Fresco directed "Spadina Bus", the video which turned T.V. into Demonsville.
'Spadina Bus' became a MuchMusic hit, and was quickly followed by the hilarious 'Out of My House, Roach' (directed by Joel Goldberg). The Demons caught fire, sold more independent albums than anyone up to that point (15,000) were nominated for a Juno, won 5 CASBY Awards, toured like mad and released their 2nd album (Bop Rap) which featured a very popular rendition of 'Hockey Night in Canada.' More touring and more albums followed and soon the Shuffle Demons were playing to packed houses around the world with a new line-up featuring Perry White and George Koller. And brand new demon duds by Kurt Swinghammer.
The rest is history!
The Shuffle Demons released 6 albums and 7 videos in their 23 year career. They played 1000s of shows at every major jazz and folk festival in Canada during 20 Canadian tours. They toured Europe 15 times playing from Estonia to Italy, from the Netherlands to Norway, from Switzerland to Sweden, from Germany to Belgium. And all the while they kept audiences excited, dancing and smiling as they built up a solid fan base that to this day will never forget the music and the antics…stopping traffic with the famous 'Spadina Bus' walk around, playing a Mingus tune and really meaning it, thrashing around the stage in crazy interpretive dance, delivering the classic poem 'What do you Want.'





Kaitlyn Kasha was born and raised in Regina and is a long-time fan of the Jazz Festival. She has been taking voice lessons for more than 12 years and singing for as long as she can remember. Kaitlyn is entering her final year of vocal performance studies at the University of Western Ontario and hopes to pursue her Master's in Music Therapy. Although she studies classical voice, she loves to sing multiple genres of music including musical theatre, pop and jazz. Performing since she was 8 years old, Kaitlyn has participated at the Regina and Saskatchewan Music Festivals and has been a part of musicals through Luther College High school, Regina Summer Stage and Theatre Western. She has been listening to jazz music since she was a toddler and was given her first opportunity to perform in this genre with the Regina Jazz Society in 2016. Since then, she has been featured at the Jazz Festival and performed with many members of Regina's talented jazz community. Most recently, she was appointed conductor of the Thames Centre Community Choir, guiding them through a successful 2018/19 season. In addition, in March of 2019, she programmed and performed a solo recital at the Don Wright Faculty of Music. Kaitlyn would like to thank JazzFest Regina for this incredible opportunity, her fellow performers for sharing the stage with her, as well as her family for their love and support.
---