A Fundraiser for Roman - Ft. Untimely Demise, Metal Theatre, Ben Winoski Trio
Nov 5, 2022
---
---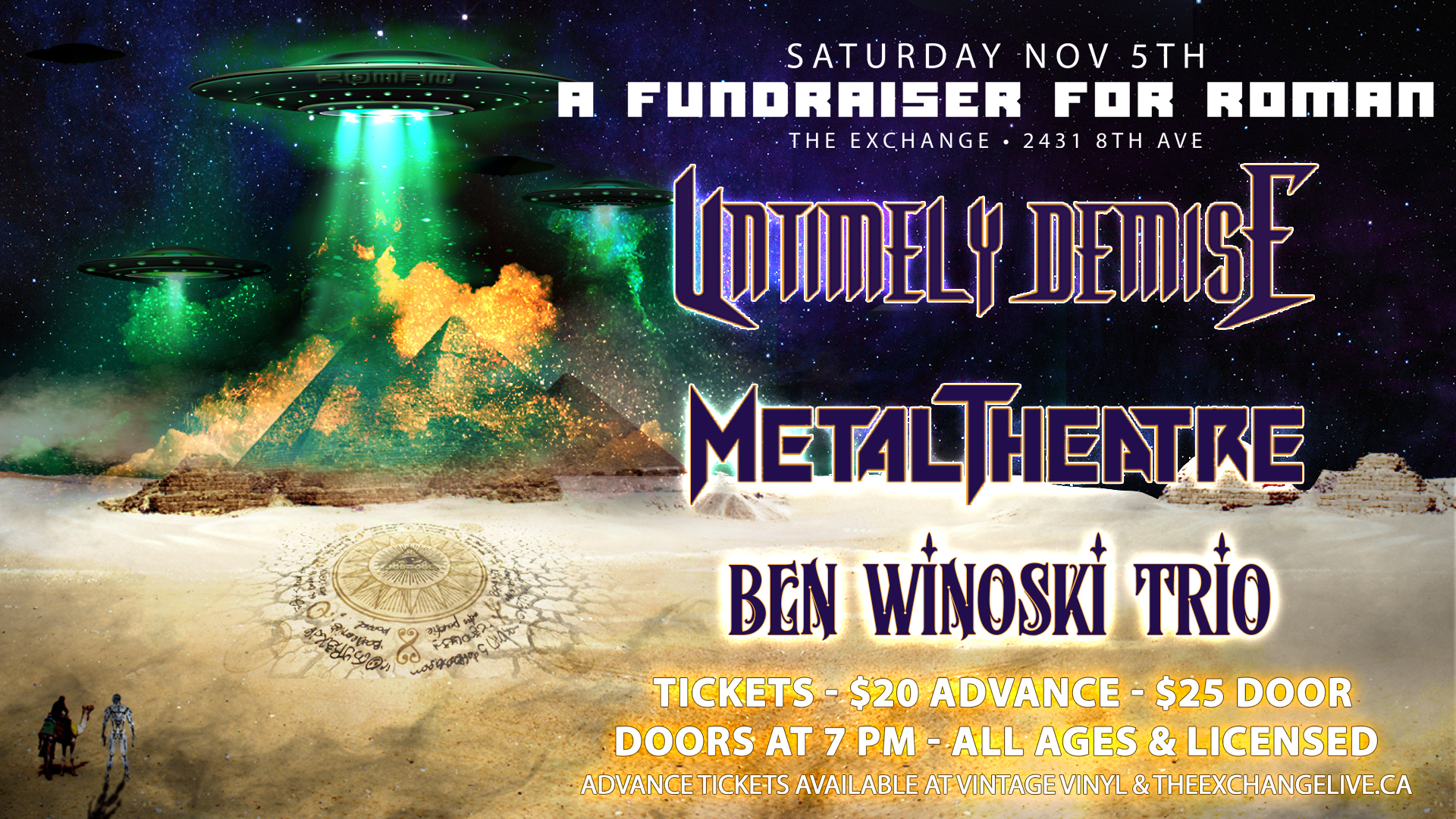 Saturday, November 5th
A fundraiser for Roman
Featuring performances by
Untimely Demise
Metal Theatre
Ben Winoski Trio
There will be a silent auction, raffles, and special t-shirts for sale as a part of the fundraiser with all proceeds going towards Roman's recovery.
2431 8th ave Regina Sk.
All ages & licensed
Advance tickets are available at Vintage Vinyl, and online.
Roman suffered a stroke on Thursday, Aug 25th, 2022.
He is in stable condition with his loving family by his side and many friends nearby, but even with all our love and support behind him, he has a long road to fully recover.
Roman is strong and stubborn as hell, and we all know he will work as hard as he possibly can to make that happen.
As many know, Roman always speaks of how grateful he is to do what he loves for a career. However, with self-employment and making his living using his hands as a tattoo artist, he is going to need our assistance to help him cover the costs of his daily living expenses, as he will not be able to work for the foreseeable future.
*The money raised here will be used for paying his rent, covering the costs of all his daily living expenses, additional therapies etc. This will help alleviate some of the financial burden and stressors that will arise during Roman's immediate recovery period and further down the road as long-term rehab is inevitable. The funds will be given to his next of kin directly, with Roman's approval, to manage his care needs.

Thank you for sending your positive energy, love and support. Now let's show him what the word community means. Let's show him just how many people are in his corner.
Please do not feel pressured to donate financially. Just do whatever you can, whether it's to share the link to this GoFundMe, provide words of strength and encouragement or focused energy towards his healing. It all matters and it all makes a difference.
He knows this.
One Love.
About the Exchange

Proof of vaccination is no longer required.

Masks are encouraged.

The Exchange is wheelchair accessible and offers 2 non-gender/wheelchair-accessible washrooms.

The Exchange is an all-ages venue that supports the Safer Spaces Initiative. We do not tolerate any form of harassment, abusive and/or discriminative behaviour. Such behaviour is grounds for immediate removal from the event/venue. If you are experiencing any harassment please ask to speak to a manager.
Prices include taxes and fees - line ups subject to change - no refunds or exchanges
---