Rock Is Dead - IV - Nov 8 & 9
Nov 8, 2019 - Nov 9, 2019
---
---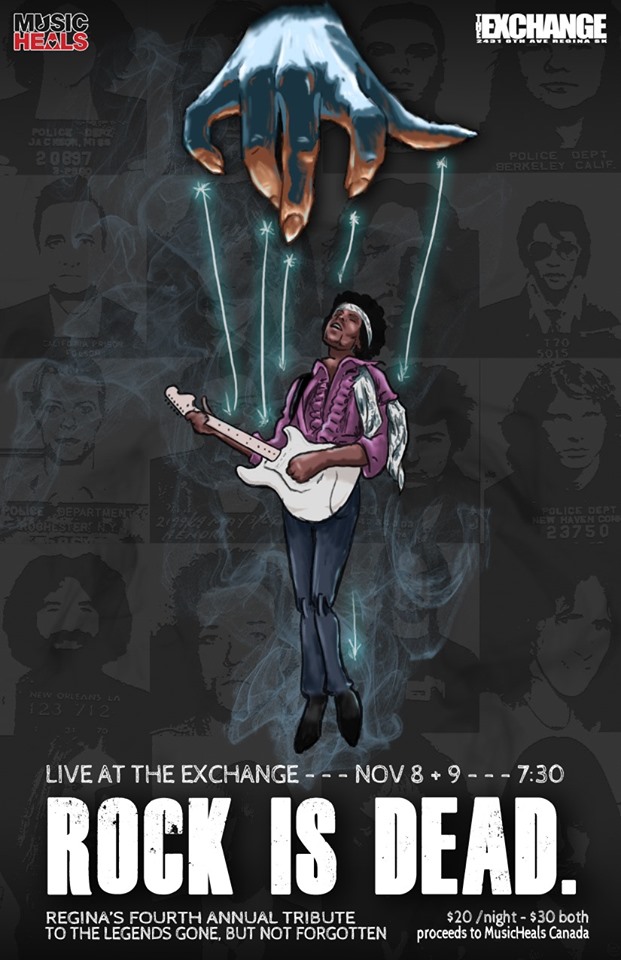 The gates of Rock 'N Roll Heaven are opening once again. This time for two nights and two killer sets of music at The Exchange on November 8th and 9th. Doors open at 7:00 and face-melting guitar solos start at 7:30.
Tickets are $20 per night, or come to both for $30. You can purchase tickets at Vintage Vinyl in both Regina and Moose Jaw, The Exchange - (306) 780-9495 or at the door.
November 8 - Get down with your bad self.
Rock is Dead, what a very big band you have! All the better to bring to stage some of the greatest legends of classic rock, disco, funk and everything in between. If rumours are to be believed, several legendary music superstars will also be making their first appearance in a Rock is Dead show. You will not want to miss this one.
Thank you, thank you very much.
November 9 - Rock and roll will never die!
If you have enjoyed Rock is Dead in the past, then the Saturday night show is tailor-made just for you. The band is a little smaller, but one could argue significantly louder. Saturday night's show features some of the gone-but-still-not-forgotten legends of rock, punk and metal. It is also on Saturday's show that tribute will be paid to some of those music legends that we have lost only recently.
There will be plenty of good, loud fun from beginning to end. And speaking of the end – you will NOT want to miss this finale. We guarantee it.
This is an annual charity fundraiser put on by local musicians, artists and performers. It's truly a collaboration of Regina's musical talents paying tribute to the greats who are gone before their time. We'll be raising funds again for Music Heals, an organization which specializes in music therapy with the funds raised going to Canadian organizations including Regina's own Wascana Rehab.
---