The Real McKenzies w/ The Anti-Queens
Mar 12, 2023
---
---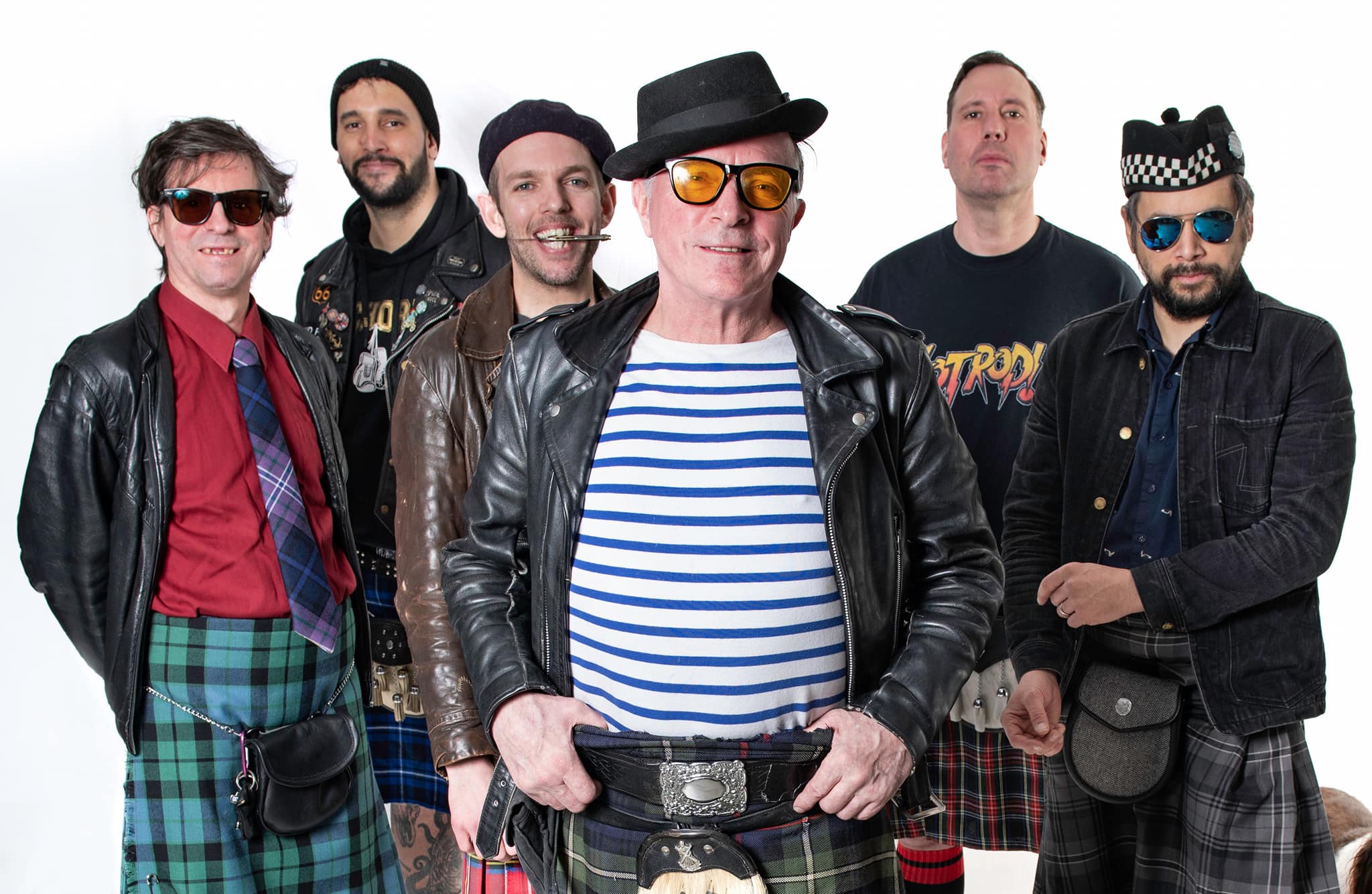 Tickets
Sunday, March 12, 2023

The Real McKenzies
The Anti-Queens
2431 8th Ave
This is an all-ages & licensed event
Doors at 7pm
The Real Mckenzies
You know these songs. Even if you've never even been to Scotland, even if you're not a seafaring type, you know them. That's because the twelve anthems—and make no mistake, these are anthems—The Real McKenzies have picked for this new album have been sung by others for decades, if not centuries. A dual celebration of Scottishness and the band, which is celebrating its 30th anniversary this year, Songs Of The Highland, Songs Of The Sea drops on Fat Wreck Chords on November 18th and is comprised entirely of famous traditional sea shanties that are roughly divided, as the record's title suggest, between land and sea. And even though the idea for the album was initially proposed by guitarist Mario Nieva, these songs speak to frontman Paul McKenzie's heritage as well as who he is, and who he always has been. Some might have been written long before he was born, but these are still his stories, wound inextricably into his life experiences.
"Mario thought we should attempt to do this," he explains. "It wouldn't take a lot of time in terms of writing, because all the songs were already written. In fact, most of the songs are ancient. They're really old. I myself, being completely nautical, unfortunately, due to the pandemic, had to sell my ship, because I just simply couldn't afford it, much like Angus Walters, who sold The Bluenose. That ship is on the Canadian 10 cent piece, so every Canadian can have reference to that piece of history, although a lot of Canadians now don't give a shit now, or don't know."
To some extent, these songs are their own references to that history, brought up to date by the Vancouver, BC-based band and given a Celtic punk makeover. How else could it start, then, than with the "Scotland The Brave"? But here, its recognizable bagpipe melody soon gives way to—and then joined in unison by—electric guitars in a perfect confluence of past and present. That's the pattern throughout this record. Old songs are imbued with new relevance for these modern times and delivered with the kind of intensity and passion that only someone in tune with the history of the music and the country could deliver so emphatically. As the only constant and remaining member in the band's history, he does so with a relatively new collection of merry music makers, but it sounds like they've been playing together for years and years.
"You can really hear the camaraderie on these songs," says McKenzie. "There was never any contention when we were making it, but if there was a question, we'd sit down just like the sailors did and talk about it. Because the last thing you need when you're in a van—or a sailing ship—is contention. Because the next step is keelhauling..."
If you're unaware, keelhauling is an old-fashioned method of extreme torture and execution, where a sailor would be thrown overboard on one side of the ship and then dragged its keel. McKenzie is joking, of course, but having suffered something of a mutiny just before the pandemic, when his entire band at the time decided to call it quits, it certainly explains just how he's able to infuse these ancient mariners' rhymes with such emotion and depth of feeling. That's especially impressive considering a number of these songs' lyrics—"My Heart's In The Highlands", "Ye Jacobites By Name" and "A Red, Red Rose"—were written by the 18th century Scottish poet Robert Burns. That might seem like an odd thing for a punk band to do, but anyone who knows The Real McKenzies will be aware it's not the first time they've sung his words. Indeed, the singer has a real soft spot for the literary legend.
"Nobody else in the world is doing Robert Burns in that format," he says. "I was raised with Robert Burns and I just love him. I think we've covered 15 of his songs. One of the things about Canada that you have to understand is that in the '20s, Robert Burns was fucking huge, and Scottish music was also huge there back then. Even today, there's a Robert Burns statue in every major city in Canada."
This album is only partially Robert Burns, though. It also includes wonderfully life-affirming (yet somehow still melancholy) versions of two of the best known sea shanties, "Drunken Sailor" and "Dead Man's Chest", though the latter was a actually fictional one created by Robert Louis Stevenson for his iconic 1883 novel Treasure Island). There's also a gorgeously resigned rendition of "Sloop John B", the Bahamian sea shanty popularized by The Beach Boys back in 1966. "They made a Californian pretty boy version of it," says McKenzie, "but it's not supposed to be that way. It's supposed to be a fucking hard ass sailor singing it."
And then there's the version here of the early 20th century folk song, "Swansea Town", a song that means so much to McKenzie he couldn't even bring himself to sing it. Instead, he got The Last Gang vocalist Brenna Red to fill in. Like all of these songs, it's one that helped shape him, and which still sits at the very core of who he is all these years later.
www.facebook.com/therealmckenzies
https://therealmckenzies.bandcamp.com/album/beer-loathing
www.instagram.com/therealmckenzies
https://twitter.com/Real_McKenzies
The Anti-Queens
A staple of the Toronto scene for over a decade, The Anti-Queens are an ultra hard-working, punked up rock n' roll quartet of super high-powered women who give the male-dominated music industry a run for their money. They've become infamous in their hometown of Toronto for their insanely high-energy, take-no-prisoner live performances.
They have toured across Canada, The United States & Europe as direct support for Danko Jones, Streetlight Manifesto, Cancer Bats, The Planet Smashers, Protest The Hero, illScarlett & The Creepshow, to name a few. They are no stranger to the big stage and have rocked festivals including 77 MTL, Montebello Rockfest, Music4Cancer, Rock La Cauze, Pouzza Fest, Park Jam London, Beau's Oktoberfest, Harley Days Dresden & Weserlieder Open Air in Minden.
The Anti-Queens are gearing up to release their second LP in 2023 - produced by Dave 'Brownsound' Baksh & Steve Rizun. The band has previously self-released two stellar EPs (Grow Up/Stay Young and Start Running) and released their killer full-length debut on Stomp Records in Fall of 2019.
The Anti-Queens are:
Emily Bones - Lead vocals / Guitar
Valerie Knox - Lead guitar / Vocals
Zoe McMillan - Drums
Zenab Jaber - Bass / Vocals
"the band brought the energy and rallied the assemblage with thirty minutes of blistering garage punk fit for any early '90s college basement show." - Razorcake
www.facebook.com/TheAntiqueens
https://theanti-queens.bandcamp.com/album/self-titled
www.instagram.com/theantiqueens
https://twitter.com/antiqueens
About the Exchange
Proof of vaccination is no longer required.
Masks are encouraged.
The Exchange is wheelchair accessible and offers 2 non-gender/wheelchair-accessible washrooms.
The Exchange is an all-ages venue that supports the Safer Spaces Initiative. We do not tolerate any form of harassment, abusive and/or discriminative behaviour. Such behaviour is grounds for immediate removal from the event/venue. If you are experiencing any harassment please ask to speak to a manager.
Prices include taxes and fees - line ups subject to change - no refunds or exchanges
---