RAH RAH w/Natural Sympathies + MechaDroid - Farewell Concert 2 - Dec 30
Dec 30, 2019
---
---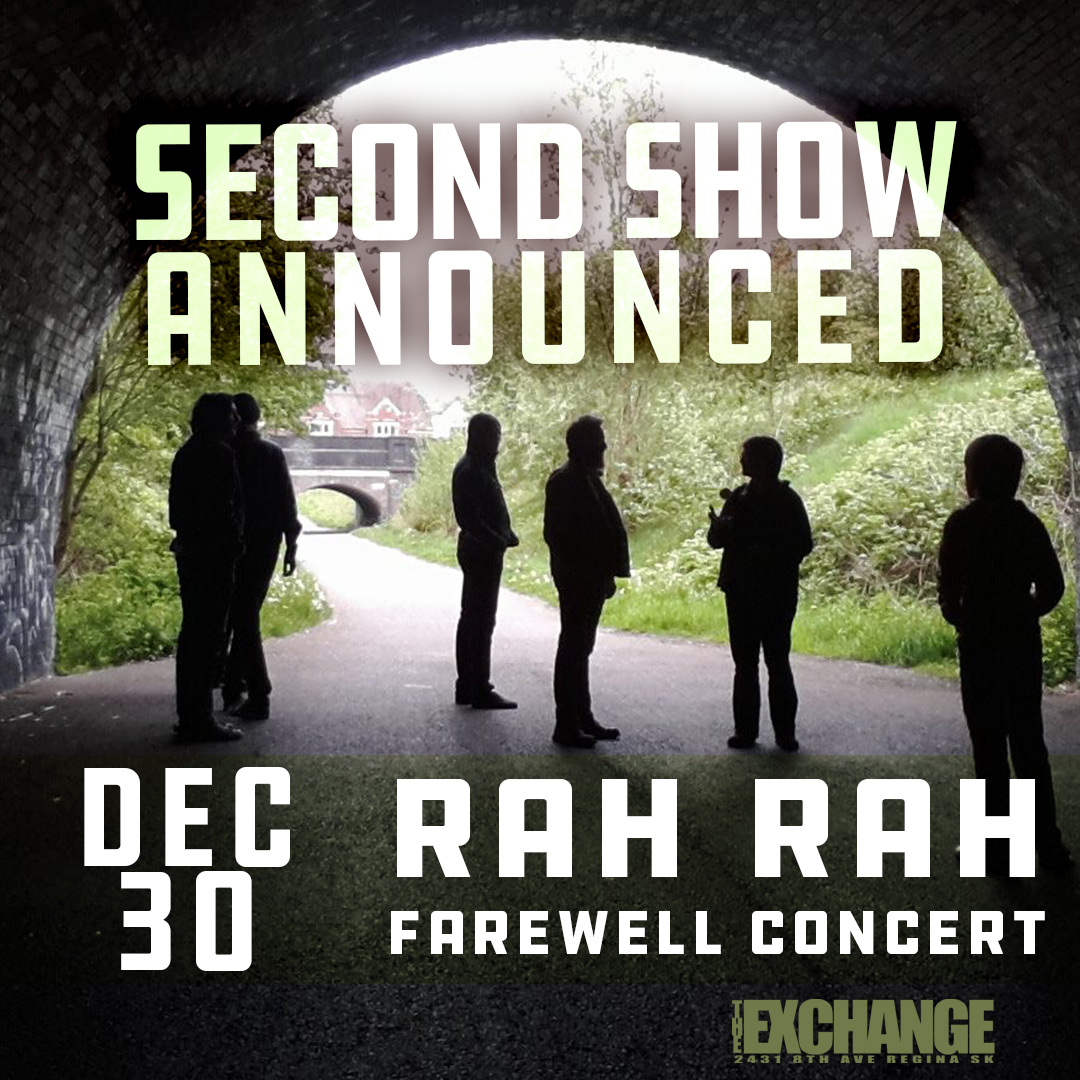 RAH RAH announce a second Regina show added to their Farewell Concerts! December 30th, tickets available now!
Support bands are Natural Sympathies + MechaDroid
DECEMBER 30TH
All Ages / Licensed
Doors at 8:00pm
Advance tickets available at Vintage Vinyl and online at theexchangelive.ca
https://www.facebook.com/rahrahband/
Following over a decade of touring and recording Regina's Rah Rah have decided to announce two farewell concerts in their home province of Saskatchewan this December. The indie-rock band toured North America, Europe and Japan extensively while releasing 4 LPs, 2 EPs and a remix album.
Since 2012 the permanent line-up has consisted of Jeffrey Romanyk, Kristina Hedlund, Joel Passmore, Erin Passmore and Marshall Burns. Other musicians to perform and record with the band over the years included Kyrie Kristmanson, Leif Thorseth, Samra Sahlu, Vanessa Benson and Dan Crozier. The group were nominated for several awards including a Juno, the Polaris Prize and several Western Canadian Music Awards including a win for "Best Alternative Album" for 2012's "The Poet's Dead". 2015's "Vessels" was the group's last album and the second produced by the Brooklyn-based recording pair of Gus Van Go and Werner F.
Following an extensive release tour playing clubs and festivals across 3 continents, the band played a pair of shows in the Fall of 2016 at Breakout West in Regina before beginning a 3-year hiatus. The band played over 600 shows and were known for their energetic live performances that often incorporated confetti, balloons, regular instrument-switching and using PopRocks candy as an instrument while sharing the stage with such great acts as The Weakerthans, Sam Roberts Band, Wintersleep, Minus the Bear, Said the Whale, Dear Rouge and Plants and Animals.
Since the beginning of their hiatus, Kristina and Erin have pursued their education, Jeffrey has remained busy touring with many bands (most recently Ponteix), Joel has been working in Vancouver's film and TV industry as well as on a new musical project with Leif and Marshall recently released his first solo album "Dogs and Booze", which both Joel and Jeffrey played on.
Natural Sympathies
Natural Sympathies is the solo project of Regina musician Amber Goodwyn, formerly of the Montreal bands Cobra & Vulture and Nightwood. Natural Sympathies makes music that is an eclectic mix of playful vocal harmonies, urgent lyrics, elemental drum machine beats, organ, twisty guitar and synth. Her live shows explore her inner life through fantasy, using dance and otherworldly projections and occasionally performing with a coven of back-up dancers called The Mutual Affection.
https://www.facebook.com/NaturalSympathies/
https://naturalsympathies.com/
MechaDroid
The party band for people who hate crowds, MechaDroid is Colin (he/him) and Leo (they/them)

https://www.facebook.com/MechaDroid/
---