Fourth Annual Queen City Holiday Showcase
Dec 23, 2022
---
---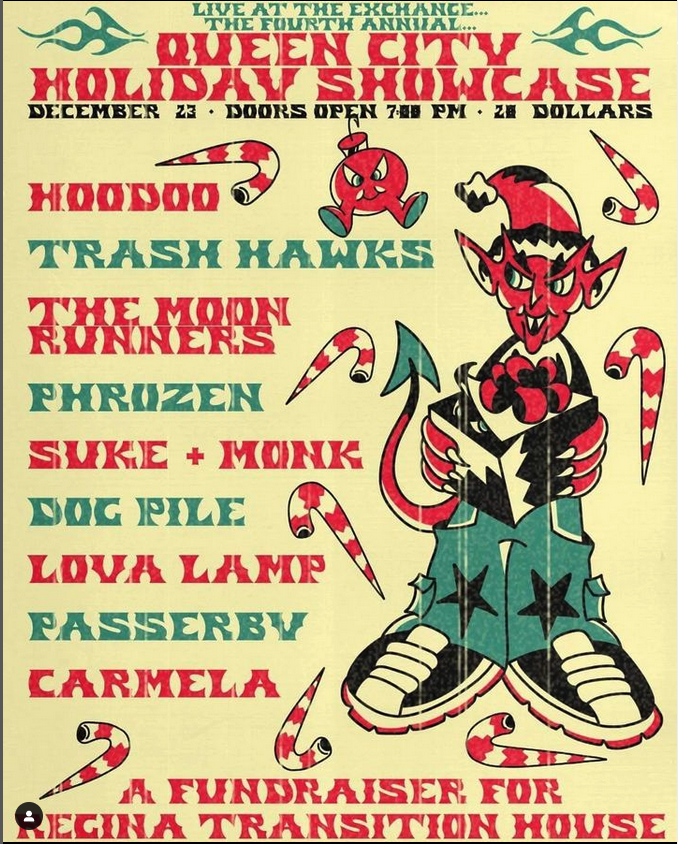 QCHC Presents
December 23rd, 2022
The Fourth Annual Queen City Holiday Showcase
Hoodoo
Trashhawks
The Moon Runners
Phrozen
Suke + Monk
Dog Pile
Lova Lamp
Passerby
Carmela
The Exchange - 2431 8th ave
Doors at 7:00 pm
$20
This is an all ages & licensed event
A Fundraiser for Regina Transition House
Hoodoo (Hip-Hop-Funk-Rock. The Rage of the prairies.)
https://www.youtube.com/watch?v=Z-9lxMh6j5w

Trash Hawks (Garage Punk Rock. Energy!)
https://trashhawks.bandcamp.com/album/being-ill

The Moon Runners (Emo-Prog-Math-Rock. Real Nerd Hours.)
https://themoonrunners.bandcamp.com/album/wakeless-2095

Phrozen (Blackened Hardcore. EVIL!)
https://phrozen.bandcamp.com/track/phrozen-in-time

Suke + Monk (Two of Regina's finest rappers and producers.)
https://soundcloud.com/user-302357031
https://soundcloud.com/user-200486694-41127410

Dog Pile (Queen City Hardcore.)
https://dogpile0.bandcamp.com/releases

Lova Lamp (Technical Death-Pop.)
https://lovalamp.bandcamp.com/album/stare-at-the-sun

Passerby (Real ass Punk-Rock.)
https://www.instagram.com/passerbyandby/

Carmela (Alternative Emo-Grunge. First show!)

As always, this event is a fundraiser for Regina Transition House, a local non-profit who serve the needs of women and children through the provision of safe transitional shelter and support services to promote community well-being.

About the Exchange

Proof of vaccination is no longer required.
Masks are encouraged.
The Exchange is wheelchair accessible and offers 2 non-gender/wheelchair-accessible washrooms.
The Exchange is an all-ages venue that supports the Safer Spaces Initiative. We do not tolerate any form of harassment, abusive and/or discriminative behaviour. Such behaviour is grounds for immediate removal from the event/venue. If you are experiencing any harassment please ask to speak to a manager.
Prices include taxes and fees - line ups subject to change - no refunds or exchanges
---