People of the Sun album release show w/Pimpton, ZHE The Free, and Rooky
Apr 29, 2023
---
---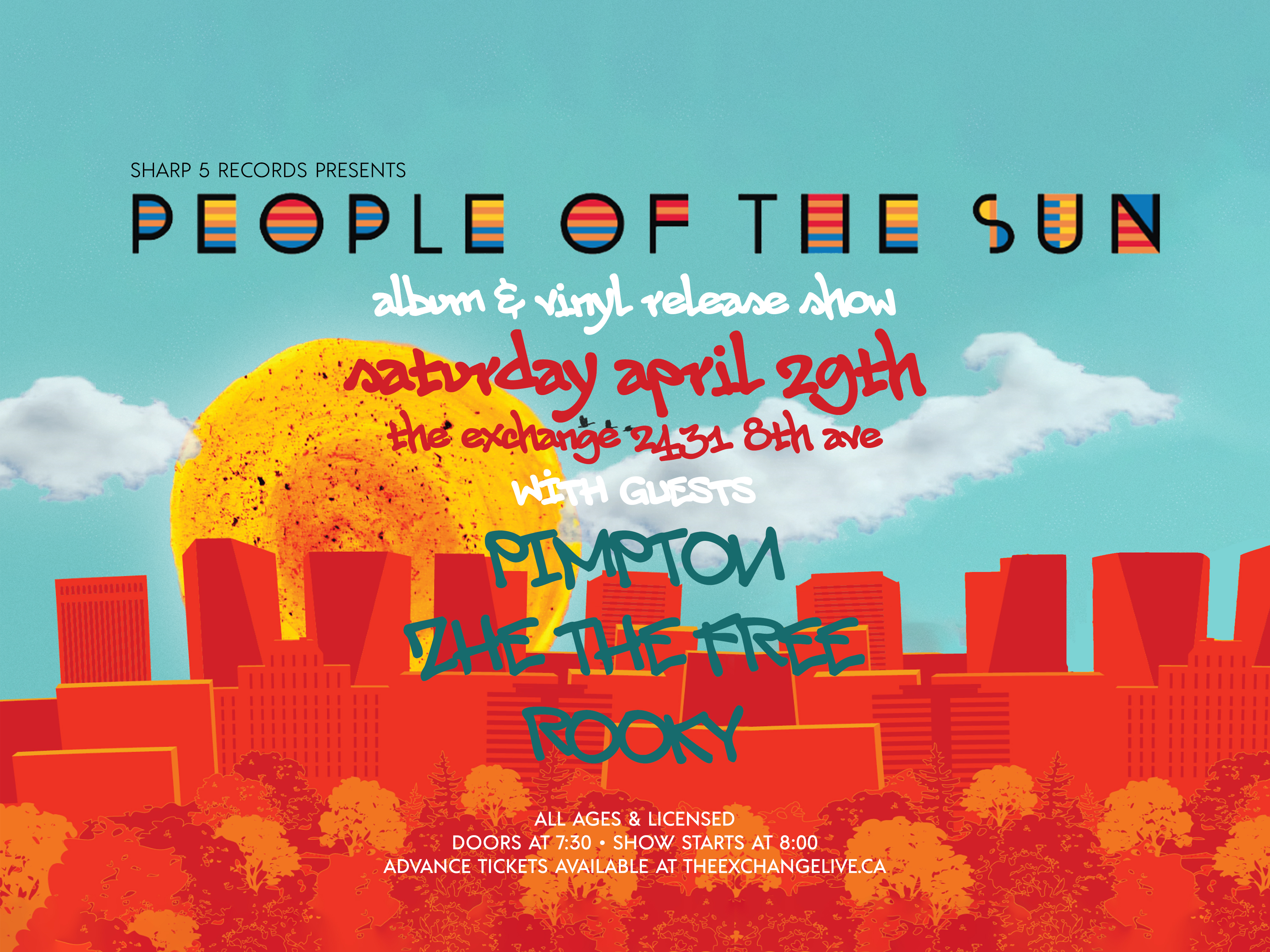 Saturday, April 29th
Sharp 5 Records Presents
People of the Sun album/vinyl release show
Pimpton
ZHE The Free
Rooky
All ages & Licensed
Doors at 7:30 pm Music starts at 8:00 pm
$20 adv
People of the Sun
People of the Sun, who formed in 2020, have released 3 albums, but have never been able to properly celebrate any of them.
Join us on April 29th to help us officially release our full-length LP and its release on Vinyl!
https://www.youtube.com/@sharp5records
www.facebook.com/peopleofthesun20
Pimpton
https://www.youtube.com/watch?v=1U81BELPYsA
ZHE The Free
ZHE the FREE ignites the microphone. Combining conscious bars, elements of vocal play, spoken word, melodic combos and nasty rap flow. "Hip hop saved my life, and I aim to inspire others to use creativity as a positive outlet". ZHE connects with audiences on a deep level through the realness she brings to her music. From freestyle, to live battles, to experimental rap, ZHE pulls you in with her firery performance, lyrical prowess and immaculate flow. Hailing from YYC to YXE, ZHE is the founder Cypher Club, a crew of producers, rappers and musicians who meet regularly to practice freestyle creation through hip hop based sound.
https://www.youtube.com/watch?v=i4QAhYBvEGo
Rooky
Born Nigerian, Rooky is an Urban RNB / Trap Soul Artist based in Canada. Blurring the line
https://www.youtube.com/watch?v=EUzg_U0ckcg
About the Exchange
Proof of vaccination is no longer required.
Masks are encouraged.
The Exchange is wheelchair accessible and offers 2 non-gender/wheelchair-accessible washrooms.
The Exchange is an all-ages venue that supports the Safer Spaces Initiative. We do not tolerate any form of harassment, abusive and/or discriminative behaviour. Such behaviour is grounds for immediate removal from the event/venue. If you are experiencing any harassment please ask to speak to a manager.
Prices include taxes and fees - line ups subject to change - no refunds or exchanges
---