Poor Nameless Boy - Wake Up Call EP Release. w/ Adyn Townes - March 29
Mar 29, 2019
---
---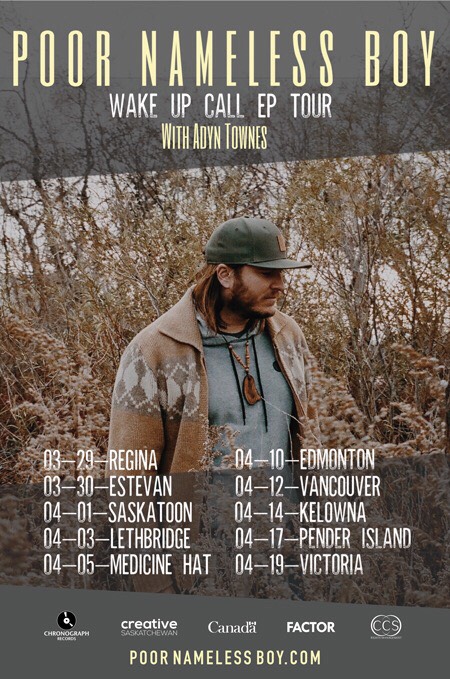 Poor Nameless Boy w/ Adyn Townes
Doors: 8pm
Tickets: $20 presale, $25 at the door
Poor Nameless Boy
Disarming in a moment, his soft, melodic delivery is born from a keen perception of the human condition. This understated authenticity is why you'll find Poor Nameless Boy on the fringes of something much deeper than modern indie-folk. In his quest to retain a certain humbled anonymity, Regina-based Joel Henderson has, in fact, made himself more noticeable than ever.
Though similar to his contemporaries with his wispy, shiver-worthy vocal tones reminiscent of Donovan Woods and Gregory Alan Isakov; Henderson's stark vulnerability sets him apart, coupled with a deep lyrical poignancy. Since the release of Activity Book (2013), and the proceeding, stunningly beautiful and acclaimed Bravery (2016); Henderson has seen some notable milestones, including a recent publishing deal and several successful tours and showcases in Canada and Europe.
Henderson's striking grasp of life's complexities is mirrored by a pure modesty, allowing listeners to immerse themselves into the stories, songs and experiences of Poor Nameless Boy without pretence. With no desire to be seen as a brand or commodity, his humanistic proposition is entirely irresistible, and as a songwriter, effortlessly engaging.
+
Adyn Townes
His latest full-length album, "After The Fall" was released in July 2018 to great national support from CBC, commercial alt/rock stations from Calgary's X92.9 to Q104 in Halifax, and the first single, "Sad Songs", held the #1 spot on The East Coast Countdown for 3 weeks. It's buzz carried it over the border, and the album's second single, "I Believe", has been in regular rotation on SiriusXM's North Americana 'Routes Radio' channel. The track is also featured on official Spotify playlists, racking up 125,000 streams, and was nominated for "SOCAN Song of the Year" at the 2018 Music New Brunswick Awards where Townes was nominated for "Pop Artist of the Year". In addition, the album earned a 'Pop Recording of the Year' nomination at the upcoming 2019 ECMA's in Charlottetown, PE.
Most recently, Townes traveled to Sydney, NSW, as an official showcase artist at Australian Music Week alongside some of Canada's most successful expats including Mo Kenney, Hawksley Workman and Luca Fogale. He's also played to full rooms in Europe, and is currently planning a return tour in October 2019.
---