Magnetic, Metal Theatre
May 13, 2023
---
---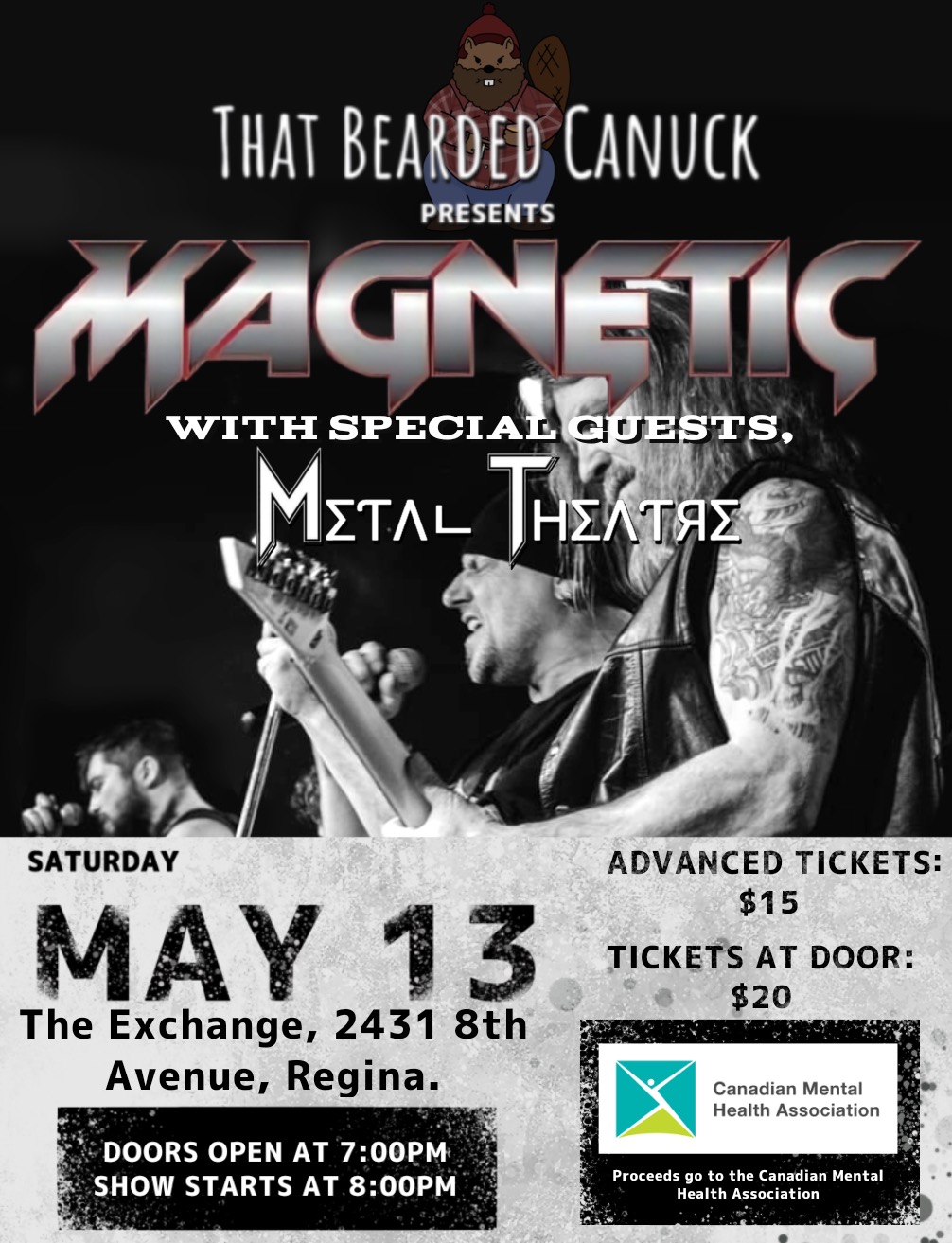 Tickets
Saturday, May 13th
That Bearded Canuck presents:
Magnetic
Metal Theatre
The Exchange - 2431 8th ave
This is an all ages & licensed event
All proceeds going to the Canadian Mental Health Association
Magnetic
Regina Hard Rock Heavyweights Magnetic have been bringing their Big Live Show to concert venues throughout Saskatchewan for years. With 2 Full-Length LPs to their credit, they will be recording a new album in the coming months for release in 2023. As part of their new Album, a remix of one of their most popular songs "Get Me Out" will be released to commercial radio (with a full production video) in January, with scheduled releases throughout the year. Magnetic will also be hitting the road across Canada in support of the new music with multiple tours.
Having shared the stage as direct support to Recording Artists such as Pop Evil, Toque, P.O.D. (Payable On Death), as well as Metallica Tribute Disposable Heroes, Magnetic has established itself as a band to embrace. They are able to perform high-energy original music sets of 45, 60, 75, or 90 minutes as well as all night long in the right environment, gripping audiences with their musicianship and dedication to entertain.
World On Edge Live- https://www.youtube.com/watch?v=O5L0i7b4Bcs
https://www.facebook.com/officialmagnetic
Metal Theatre
Metal Theatre is a cover band from Regina, SK. We play all our favourite metal hits from the 80s!
https://www.facebook.com/metaltheatre
About the Exchange
Proof of vaccination is no longer required.
Masks are encouraged.
The Exchange is wheelchair accessible and offers 2 non-gender/wheelchair-accessible washrooms.
The Exchange is an all-ages venue that supports the Safer Spaces Initiative. We do not tolerate any form of harassment, abusive and/or discriminative behaviour. Such behaviour is grounds for immediate removal from the event/venue. If you are experiencing any harassment please ask to speak to a manager.
Prices include taxes and fees - line ups subject to change - no refunds or exchanges
---