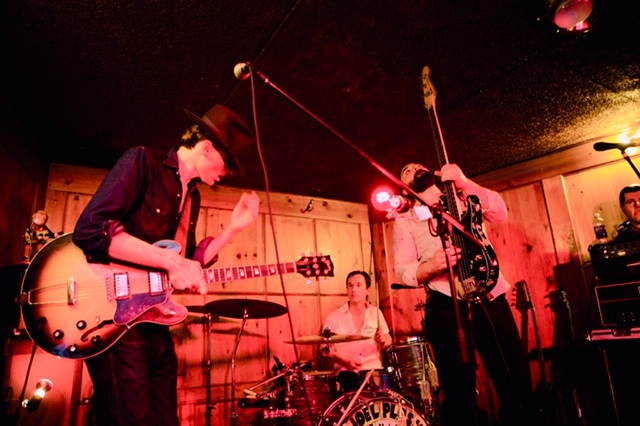 Our friend Joel Plaskett is pushing his 2020 tour to 2022! The new date for his performance in Regina will be September 17, 2022.
Tickets are available now!

If you already have your ticket, it will still be honoured on the new date. If you have a ticket and you would like a refund, please contact Leo at [email protected].

In a world increasingly defined by disconnection under the guise of digital bonding, Joel Plaskett is an analogue holdout, making his most solid connections the old-fashioned way, through the electrifying, uplifting experience of his live shows. That doesn't mean that heading out to get sweaty with a few hundred fellow good-timin' strangers at your town's most storied music venue is the only way to experience Plaskett's tunes—the warmth and care with which he works shines through on his albums, self-produced and recorded to tape at his New Scotland Yard studio in downtown Dartmouth, whether you're experiencing them on vinyl in your dim-lit living room or through headphones via MP3. But there's no better spot than under the bright lights of the stage to catch one of Nova Scotia's favourite sons, shredding in reverie alongside his band, The Emergency, harmonizing with his dad, Bill or spinning tales and songs on his own.
You can't make a reputation for yourself as a world-class entertainer without hitting the road, and there are few musicians who have tramped the globe like Plaskett has. That journey started in the early '90s with the playful and explosive Thrush Hermit and their signature neon ROCK & ROLL sign and hasn't stopped (in fact, the Hermit's bright red light is soon to be lit up again with a cross-Canada reunion tour kicking off fall 2019). For over a quarter century, Plaskett has delivered the masses intimate, scrappy singer-songwriter fare (In Need of Medical Attention, La De Da); incendiary riff-rock (Down at the Khyber, Truthfully, Truthfully); conceptual, operatic epics and off-kilter feats of musical stamina (Ashtray Rock, Three, Scrappy Happiness); and a collection of left-leaning folk partly inspired by the genre's British masters with his father (Solidarity). The last album he released under his own name, 2015's The Park Avenue Sobriety Test, showed him at the top of his game, using all the sounds in a wildly diverse musical toolbox. Rest assured that what's coming next will be unexpected, a new evolution for an artist who's never stopped shifting and exploring his medium.
Joel's musical contributions go far beyond his own music, too. Besides producing most of his own records since 1999, he's also set up shop behind the console at The New Scotland Yard studio, along with engineer Thomas Stajcer, to help craft a number of critically-acclaimed records for others. Working with artists like Jimmy Rankin, Two Hours Traffic, David Myles, Shotgun Jimmie, Dennis Ellsworth, Sarah Slean, Old Man Luedecke, Dave Marsh, Colleen Brown and longtime collaborator Mo Kenney has led to numerous awards for production and turned the studio into a popular destination for artists looking to make their mark. Out front, just a stone's throw from the studio, lies The New Scotland Yard Emporium, where Plaskett partnered with Halifax mainstay Taz Records to bring a great selection records to his adopted hometown of Dartmouth, helping shape the future of Portland Street by building a spot music fans can hang out and grab a coffee or beer while they dig for records.
Setting his impressive catalogue aside, Plaskett's legacy is in those communal experiences, the ones that have fans old and new belting out his songs for a couple hours before they stumble wide-eyed onto the sidewalk outside the club, buzzing with the life-affirming electricity that gets generated between the stage and the audience.
-----------------
This show will have no opener. We have the pleasure of TWO sets from Joel Plaskett! Joel's band includes members of The Emergency and Mo Kenney and they will be playing two sets. Mo Kenney is featured in the context of Joel's show but will not play a solo set.
------------------

This show will offer a mix of seating and standing room.
Doors @ 7:30pm, Show @ 8:00pm
Advance tickets $28, Door tickets $35




Regina Folk Festival Covid-19 policy
(Procedures below are subject to change)
Last updated: March 17, 2022
The Regina Folk Festival requires vaccine proof and masking for all shared indoor spaces, until further notice. Staff, volunteers, and artists working any RFF event must be fully vaccinated against COVID-19. To be fully vaccinated means you must have received your second dose two weeks prior to the day of the show you wish to attend or work and provide proof of vaccination. These procedures are subject to change.
We will accept either of the following as proof, if your name is clearly visible:
a. Your e-health QR code or equivalent
b. The fully completed card you received when you got your vaccinations.
You can find instructions on how to access immunization record here:
https://www.ehealthsask.ca/MySaskHealthRecord/MySaskHealthRecord
For any of these documents your name must be clearly visible, and you must have valid Photo ID that matches.
The RFF recognizes not everyone has a positive relationship with their legal name. If you, for whatever reason, would rather not share your legal name, alternate arrangements can be made to confirm your vaccination status.
Vaccinations can be verified using health card numbers in lieu of legal names, or information can be held on file so that you only have to share this sensitive information once. Please contact Josh Haugerud at [email protected]
If you are exhibiting any symptoms of COVID-19, we ask that you transfer your ticket to someone who can attend or contact the Regina Folk Festival[1] for a refund. Otherwise, no exchanges or refunds.
Masks are required at this time for all indoor, shared spaces at RFF events.
Audience members under 5 years of age are exempt from the vaccine proof requirement. However, they must still be masked throughout the performance[2]. Those under the age of 5 will be permitted to enter events until the age limits for vaccinations change for those under the age of 5. This procedure is subject to change when vaccines become available for children under 5.
Our priority remains protecting the patrons, staff, volunteers, and artists that make our events happen. We thank you for your cooperation and support.
This procedure will be evaluated before all RFF events to ensure it applies to the current covid-19 situation.
https://reginafolkfestival.com/covid19procedure
About the Exchange
The Exchange is wheelchair accessible and offers 2 non-gender/wheelchair-accessible washrooms.
The Exchange is an all-ages venue that supports the Safer Spaces Initiative. We do not tolerate any form of harassment, abusive and/or discriminative behaviour. Such behaviour is grounds for immediate removal from the event/venue. If you are experiencing any harassment please ask to speak to a manager.
---