HYPOCRISY, THE AGONIST, CARACH ANGREN, HIDEOUS DIVINITY
May 7, 2022
---
---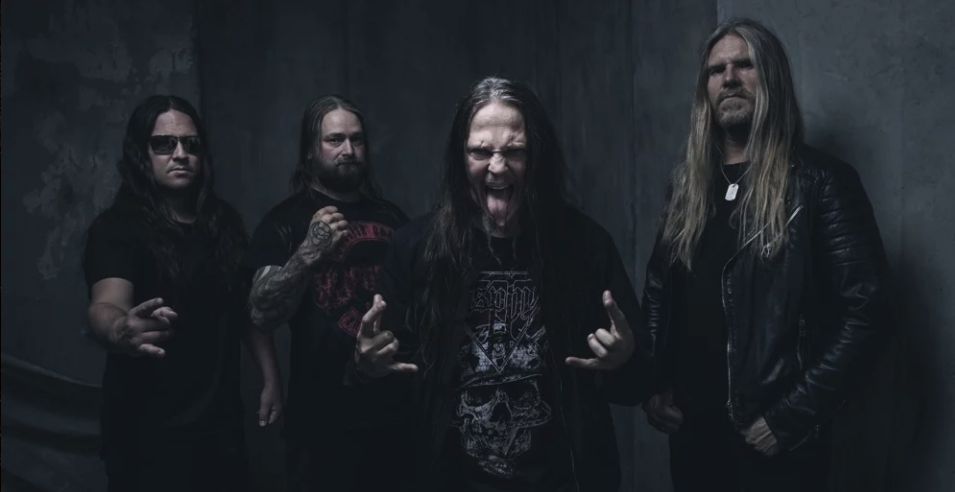 Saturday, May 7, 2022
Hypocrisy, The Agonist, Carach Angren, Hideous Divinity
Doors at 6:30 pm
$35 Advance / $40 Door
This is an ALL AGES & LICENSED event
HYPOCRISY
Hypocrisy has a 30-year history with 12 albums, hundreds of gigs all over the world, and thousands of fans. This influential Swedish death metal band started from the will of one person, and this person's name was (and is) Peter Tägtgren (Hypocrisy, The Abyss, PAIN, ex-Lindemann). Having made the first demos all by himself, after getting an offer from Nuclear Blast, he invited musicians to form an actual band.
Since then, Hypocrisy gained success with their records and rocking live performances, and evolved musically and conceptually. Heavy and rich sound with catchy melodic riffs, crushing drum fills, obscure lyrics and versatile vocal parts became a signature style of the band. Its discography from debut 'Penetralia' to the last for the moment 'End of Disclosure', through such legendary albums as 'The Fourth Dimension', 'Abducted', and 'Virus', is indeed a thrilling metal journey. A journey that continues.
Today, apart from Peter, the band consists of Mikael Hedlund (bass), who joined Hypocrisy back in 1991, drummer Reidar 'Horgh' Horghagen (since 2004). Guitarist Thomas Elofsson is a session member since 2013.
Don't let the name 'Hypocrisy' trick you: Peter Tägtgren stays true to himself, to the music and the fans, never stops creating, and never settles for less than perfect.
https://www.hypocrisyband.com/
https://www.facebook.com/hypocrisy/
https://www.instagram.com/hypocrisyband/
THE AGONIST
More extreme, more melodic, more exciting and simply larger than life: The Agonist are back! "Orphans" is a true monster feeding on melodic death metal, metalcore and almost rocking moments.
Recorded at The Grid Studio (Beyond Creation, Shadow of Intent, Despised Icon) with longtime producer Christian Donaldson, Orphans sounds incomparable to albums previous. Donaldson captured The Agonist fresh, alive, and, most importantly, heavy. The brutality and chaos is center stage with every member firing on all cylinders.
As with many bands so to with The Agonist. They live and breathe on stage. In fact, if a song doesn't pass the "live test" it doesn't make it on the album. The music is only right when it can be translated from the stage to The Agonist's rabid fanbase. So, expect to see The Agonist all over the world. And be fully ready to hear the full brilliance of Orphans.
https://www.facebook.com/TheAgonistOfficial
CARACH ANGREN
Carach Angren set out to tell ghost-stories with a set of paranormal cases recorded on the demo 'The Chase Vault Tragedy' (2004). This was soon followed by the official release of the 'Ethereal Veiled Existence' EP (2005) as a prelude to the haunting 'Lammendam' (2008). Their full-length 'Death Came through a Phantom Ship' (2010) witnessed the band setting sail to bring their eccentric and capturing live performances to audiences and festivals all over Europe. In the wake of third album 'Where the Corpses Sink Forever' (2012), the haunting had reached the US and started to spread rapidly. While firmly remaining in the horror genre, their tales revolve around the evils of war. This mature streak was taken a step further with the fourth full-length 'This Is No Fairytale' (2015), which is on the surface a darker variation of the "Hansel and Gretel", but also deals with a dysfunctional family. With 'Dance And Laugh Amongst The Rotten' (2017), the band returned to pure story telling that centred on a girl playing a little too long with a Ouija board.
Carach Angren return with the monster 'Franckensteina Strataemontanus', where the Dutch have pushed their unashamedly theatrical style to new heights. Press play and have your soul transferred with this new elixir of life!
https://www.facebook.com/carachangren
https://www.instagram.com/carachangrenofficial
HIDEOUS DIVINITY
Based in Rome but featuring members of Aborted, Hideous Divinity deliver Death Metal that is both crushing and old school rooted and technical with a blackened feel on top.
https://www.facebook.com/hideousdivinity
https://www.instagram.com/hideousdivinity
About the Exchange
Proof of vaccination is no longer required.

Masks are encouraged.

The Exchange is wheelchair accessible and offers 2 non-gender/wheelchair-accessible washrooms.

The Exchange is an all-ages venue that supports the Safer Spaces Initiative. We do not tolerate any form of harassment, abusive and/or discriminative behaviour. Such behaviour is grounds for immediate removal from the event/venue. If you are experiencing any harassment please ask to speak to a manager.
---