Hotel Mira - I Am Not Myself Canadian Tour w/ Fake Shark
Jan 31, 2024
---
---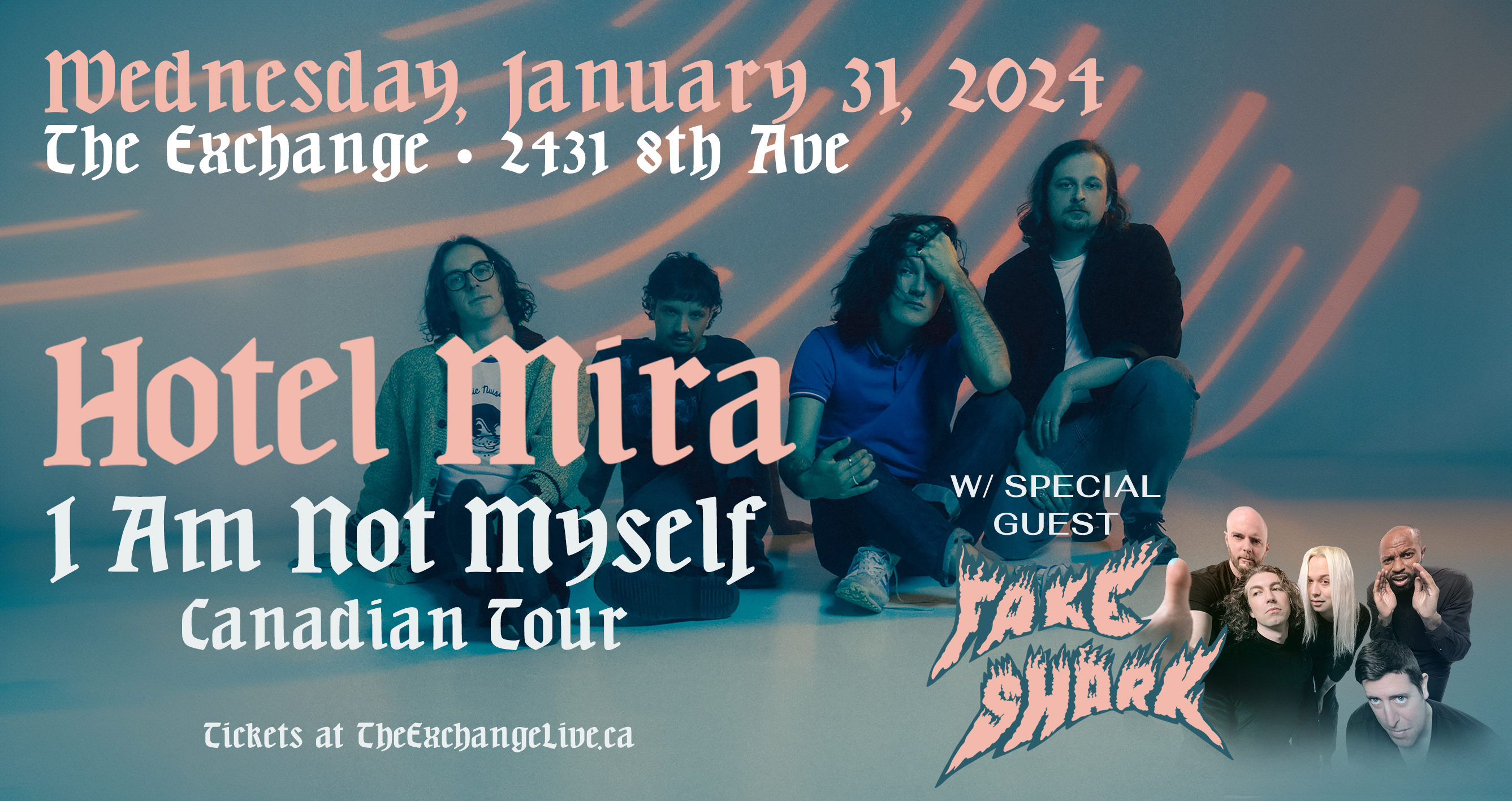 Tickets
Hotel Mira - I Am Not Myself Canadian Tour w/ Fake Shark - Presale Ticket
$20
---
Wednesday, January 31, 2024
Hotel Mira - I Am Not Myself Canadian Tour
w/ Fake Shark
The Exchange - 2431 8th Ave.
This is an all ages & licensed event
Doors at 7:30 pm
Presale: Thursday, November 9, 2023 10:00 AM
Presales End: Thursday, November 9, 2023 10:00 PM
Public Onsale: Friday, November 10, 2023 10:00 AM
Hotel Mira "Room Service" VIP Experience Tickets include:
● One (1) General Admission Ticket To The Show*
● Access To Hotel Mira's Pre-Show VIP Meet & Greet**
● One Individual Photo Opportunity with Hotel Mira**
● Access To An Intimate Pre-Show Performance Containing A Song Not On The Show's Setlist**
● Access to Hotel Mira's Pre-Show Q&A Session**
● One (1) VIP Only, Merchandise Item Autographed By Hotel Mira
● One (1) Commemorative VIP Laminate + Lanyard
● Priority Entry Into The Venue
● Priority Access To Tour Merchandise
● Limited Availability
Hotel Mira
FB https://www.facebook.com/hotelmiramusic
IG https://www.instagram.com/hotelmiramusic/
Website: https://www.hotelmiramusic.com/

Fake Shark
FB https://www.facebook.com/Fakesharkmusic
IG https://www.instagram.com/fakeshark/
Website: https://fakesharkmusic.com/
_____________________________
Package details subject to change without notice. All VIP packages are NON-TRANSFERABLE; NO NAME CHANGES will be permitted under any circumstances; NO REFUNDS or EXCHANGES; all sales are final. Please note this offer is not valid for tickets purchased via Fan to Fan Resale. By participating in any event with HOTEL MIRA, you hereby agree that your name, photographic and/or video image, and voice may be used in any media, whether now known or hereafter invented, throughout the world for any purpose whatsoever. Non-ticket package elements will be subject to the non-transferable restrictions listed above.
You will receive an email 2-3 days prior to the performance date with instructions on how to redeem your VIP Experience. Additional communication regarding your purchase may be sent via SMS text message to the phone number you provided during the purchase process. VIP programming may take place up to 3-4 hours before show time. Check-in details will also be posted HERE when confirmed.
Exclusive VIP merchandise items will be shipped directly to the address you provide with your order or distributed on-site at the VIP event. If the merchandise is distributed on-site, we cannot ship your items if you choose not to pick them up. Shipped merchandise is not guaranteed to arrive before your show date. By purchasing a VIP package, you agree to share your information with the VIP provider in order to receive communications regarding your VIP experience and to receive VIP merchandise by mail. Any shipped merchandise not claimed within 90 days is subject to availability.
RELEASE: You release, and agree to indemnify and hold harmless, HOTEL MIRA, and its respective members, officers, directors, employees and agents (the "Released Parties") from and against all claims (known and unknown), liabilities, injuries, death, loss and/or damages of any kind arising from your participation in the VIP Package and/or meet & greet, or the acceptance, possession or use or misuse of the package or any related prizes. You assume all risks associated with the VIP Package or use or misuse of any related prizes, and you agree that the Released Parties will not be responsible or liable for any injury, harm, death, damages, costs, or expenses.
If you have questions regarding your VIP package, please reach out to Please & Thank You's Customer Success team at [email protected] or text +1 (916) 655-9270.
_____________________________
About the Exchange
The Exchange is wheelchair accessible and offers 2 non-gender/wheelchair-accessible washrooms.
The Exchange is an all-ages venue that supports the Safer Spaces Initiative. We do not tolerate any form of harassment, abusive and/or discriminative behaviour. Such behaviour is grounds for immediate removal from the event/venue. If you are experiencing any harassment please ask to speak to a manager.
Ticket price plus taxes and fees - lineups subject to change - no refunds or exchanges
---