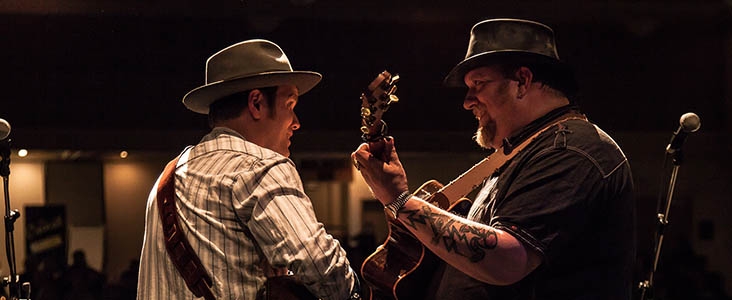 Tuesday, March 7, 2023
Grassroots Regina Presents:
Gunning & Cormier
(Nova Scotia)
The Exchange, 2431 8th Avenue, Regina
Doors at 7:30 p.m.
Show starts at 8:00 p.m.
Admission: $25 advance / $26.74 online / $30 at the door
Tickets available at: Traditions Handcraft Gallery, Vintage Vinyl, www.eventbrite.com
GrassRoots Regina is pleased to present Nova Scotia's Dave Gunning and J. P. Cormier in concert on Tuesday, March 7, 2023.
Dave and J. P. are two of Canada's greatest veteran roots singer-songwriters. Both of these artists have outstanding solo careers spanning decades, often collaborating with each other. They have recently started touring together as a duo.
Dave Gunning and J. P. Cormier are two of Canada's foremost roots artists whose combined music meshes into pure magic. Gunning and Cormier's paths first crossed over twenty years ago when Gunning needed a last-minute replacement for his concert. From there they kept collaborating whenever they could, often appearing on each other's projects. They became great friends, frequent collaborators, co-writers and eventually touring partners. Their soon-to-be-released second album Leather & Ash (February 19, 2023) follows on the heels of their critically acclaimed, blockbuster inaugural recording Two (2017). Dave Gunning is one of Canada's folk music treasures. He is a critically acclaimed singer-songwriter who has earned multiple Canadian Folk Music Awards, a Juno nomination and eight East Coast Music Awards for his well-crafted work. Dave is a masterful storyteller known for distilling the essence of a nation into iconic and anthemic folk songs, traversing territory as diverse as hockey, hardships, love, the pulp mill and grassroots activism. A genuinely engaging performer and world-class songwriter, Dave has the magnetic gift of captivating audiences by painting pictures through his heartfelt stories, humorous lyrics and solid musicianship."Gunning is the next big thing in the True North of Song, an artist as compelling, as assured and attentive to every nuance of the writing process, as Lightfoot, Cockburn and Stan Rogers before him."Toronto StarJ. P. Cormier is a Canadian bluegrass/folk/Celtic singer-songwriter and multi-instrumentalist. Over his thirty-year musical career, he has earned thirteen East Coast Music Awards and a Canadian Folk Music Award. His lyrics and melodies illicit every emotion you can muster as he paints picture after picture of loves lost, towns disbanded, fishermen killed by their trade, and the most important moments of his own life - all accompanied by his incredible instrumentation. "From the deeply rooted Celtic traditions of Cape Breton to the rapid-fire guitar work of Chet Atkins and Doc Watson, Cormier sings the songs in a mellow baritone and frames them with virtuosic playing on a bevvy of instruments, including fiddle, guitar, banjo, mandolin, and piano" -Acoustic Guitar
https://gunningandcormier.com/


About the Exchange
Proof of vaccination is no longer required.
Masks are encouraged.
The Exchange is wheelchair accessible and offers 2 non-gender/wheelchair-accessible washrooms.
The Exchange is an all-ages venue that supports the Safer Spaces Initiative. We do not tolerate any form of harassment, abusive and/or discriminative behaviour. Such behaviour is grounds for immediate removal from the event/venue. If you are experiencing any harassment please ask to speak to a manager.
Prices include taxes and fees - line ups subject to change - no refunds or exchanges
---