Étienne Fletcher presenté Entre-Deux Revisité w/Special Guests
Mar 24, 2023
---
---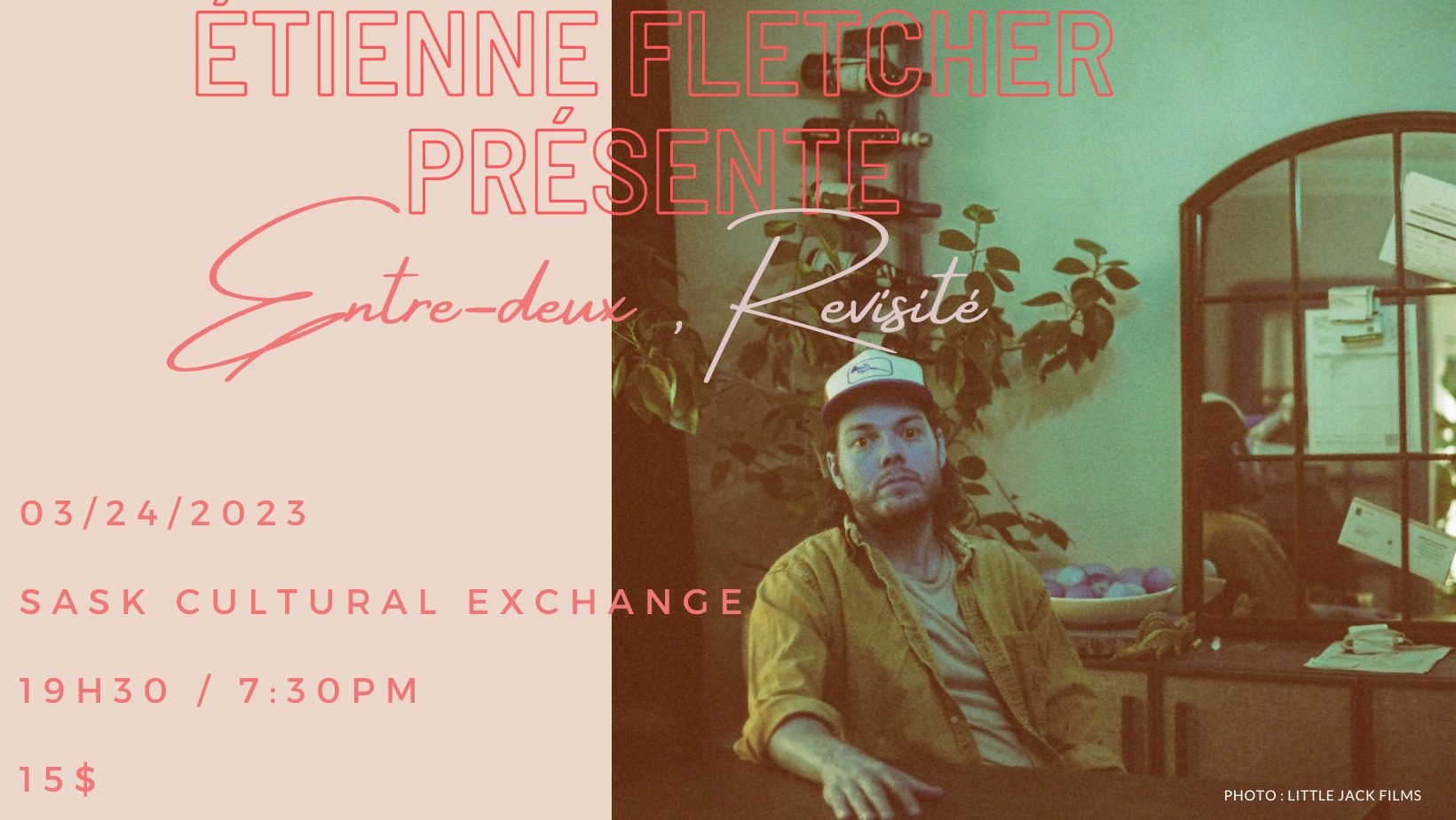 Friday, March 24 - 03/24/2023
Étienne Fletcher presenté Entre-Deux Revisité w/Special Guests
The Exchange - 2431 8th ave
This is an all ages & licensed event
Doors at 7:30 pm 19H30
$15
Étienne is revisiting his latest album "Entre-deux" with orchestra members from Regina, Sk.
Étienne revisite son dernier album "Entre-deux" avec des membres de l'orchestre de Regina, Sk.
Étienne Fletcher's take on music is definitely touching. With a soft, husky voice, the singer-songwriter manages to find the right words to translate life, death, and everything between into song.

From the beginning, the artist has never been afraid to travel the miles, putting his bilingual roots to the forefront. Having defended his Face A and Side A EPs - both nominated for Trille Or, Canadian Music Awards, and Sask Arts Awards - across Canada and in Europe, he has also performed at an impressive number of festivals, including Les Francos de Montréal, Le Festif!, Festival en Chansons de Petite-Vallée, Contact Ontarois, Francofaune (Belgium), the Vancouver Summer Festival, Francofête en Acadie, and Coup de cœur francophone.

For the past two years, Étienne Fletcher has been presenting an intimate show that ranges from rock to blues, folk to pop, and carries the francophone pride of Western Canada at its heart. Able to create a palpable connection with the audience thanks to his authentic message, the artist stands out for his contagious energy and refreshing spirit.
With his debut full-length album - Entre-deux – due out this fall, Fletcher's rich and introspective offering comes through as an invitation to stop waiting for hypothetical good times or aftermaths to happen. The good times are now.
https://www.facebook.com/etiennefletchermusic
About the Exchange

Proof of vaccination is no longer required.

Masks are encouraged.

The Exchange is wheelchair accessible and offers 2 non-gender/wheelchair-accessible washrooms.

The Exchange is an all-ages venue that supports the Safer Spaces Initiative. We do not tolerate any form of harassment, abusive and/or discriminative behaviour. Such behaviour is grounds for immediate removal from the event/venue. If you are experiencing any harassment please ask to speak to a manager.



Prices include taxes and fees - line ups subject to change - no refunds or exchanges
---