Elliott Brood, Shred Kelly - Across the Great Divide Tour
Sep 26, 2023
---
---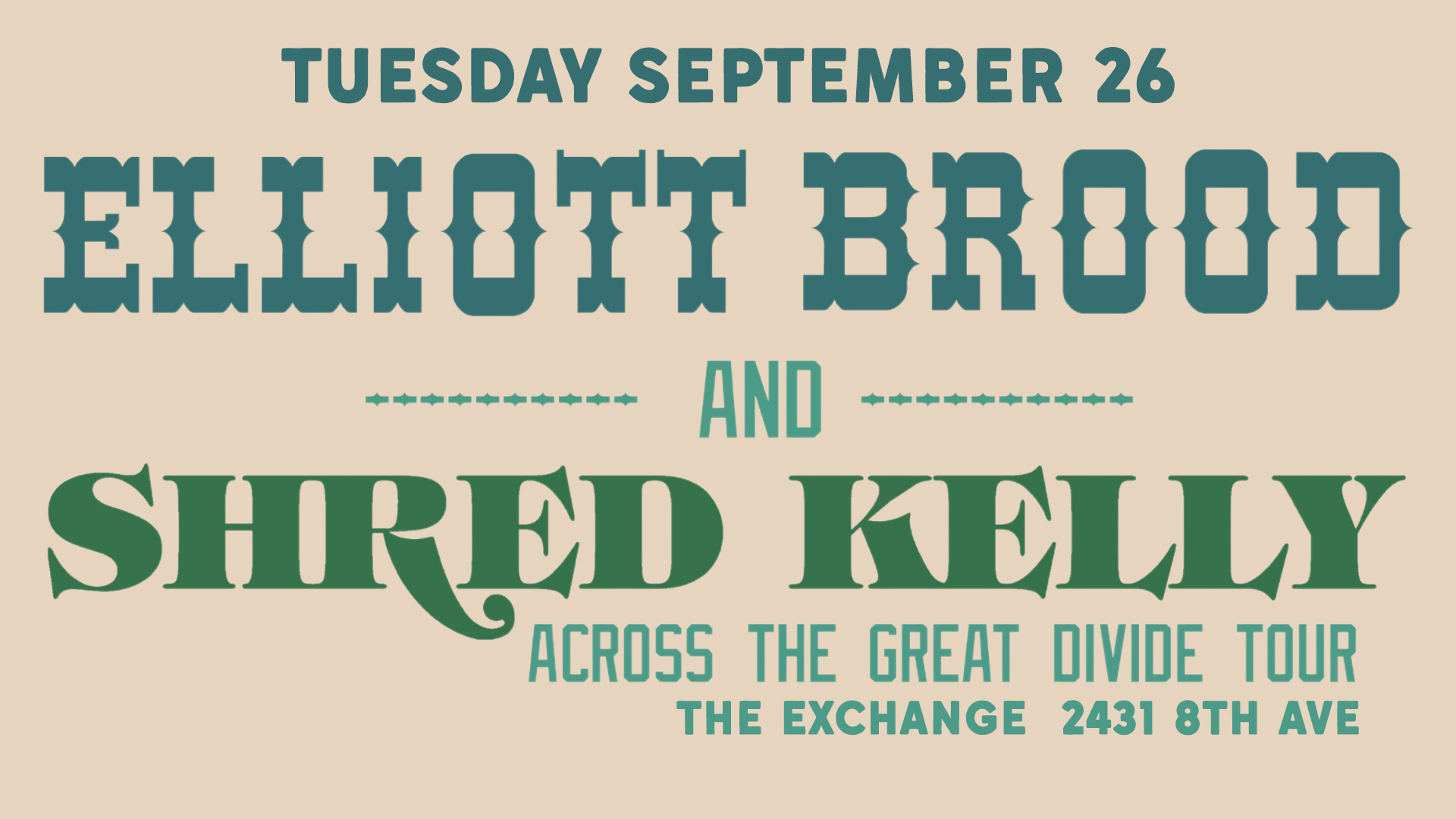 Tuesday, September 26th
Elliott Brood
Shred Kelly
Across the Great Divide Tour
The Exchange 2431 8th Ave
This is an all-ages and licensed event
Doors at 7:30 pm
Tickets on sale June 23rd $30 advance - $35 Door


Elliott Brood
From the mountains of Utah to the trenches of Vimy Ridge, Elliott BROOD's songs have travelled the gore and glory of history in equal measure for nearly a decade. With the stomp and thrash of their early albums, Elliott BROOD carved their niche drawing from history and memory. As heavy and harrowing the past can be, for Elliott BROOD, it is also a generous companion, giving the gift of appreciation for times of peace and grace. With Keeper, Elliott BROOD's seventh album, the trio deals with the past in more personal terms. The title, which speaks to loyalty and longevity, sets the tone for an album that explores the strength of conviction, and how that strength is tested, again and again, over time. Thoughts of worthiness and dedication, and their emotional flip sides, inform a collection that sees the band exploring those battlefields much closer to home. From the Polaris Music Prize short listed breakout album Mountain Meadows to the JUNO Award winning Days Into Years, the well-traveled trio of Mark Sasso, Casey Laforet and Stephen Pitkin have created a body of work that is at once meticulous and boisterous, substantial and entertaining.

https://www.facebook.com/ElliottBROOD

https://www.instagram.com/elliottbrood/


https://www.facebook.com/shredkellymusic
https://www.instagram.com/shredkelly/
Shred Kelly
Emerging from the majestic landscapes of the Canadian Rockies, Shred Kelly is a powerhouse band that seamlessly blends elements of alternative, folk, and rock music. With a captivating live act that leaves audiences in awe, they have become a mainstay in the Canadian music scene. But it's not just their energetic performances that set them apart—Shred Kelly's heartfelt songwriting strikes a chord with listeners, connecting deeply as each band member brings their eclectic musical influences to the table, shaping the group's unique musical direction.
With an impressive track record of touring across Canada, the United States, Europe, and the UK, Shred Kelly has made appearances at renowned festivals such as Kaslo Jazz, Ottawa Blues Fest, Winnipeg Folk Fest, SXSW, Reeperbahn and many more. Furthermore, the band has shared stages with esteemed acts such as The Dead South, Elliott Brood, and The Cave Singers, leading to their reputation as a dynamic live act whose show is described as a joyous celebration of life.
With a fervent commitment to their craft, Shred Kelly has garnered praise from critics in Canada and beyond, earning Spotify Editorial Playlisting, international radio play, and regular rotation on influential platforms such as Sirius XM and Radio Eins in Berlin. Nominated for Rock Artist of the Year at The 2021 Western Canadian Music Awards, Shred Kelly's ascent shows no signs of slowing down as they prepare to release their highly anticipated sixth studio album, produced by the acclaimed Nygel Asselin.

https://www.facebook.com/shredkellymusic

https://www.instagram.com/shredkelly/
About the Exchange

Proof of vaccination is no longer required.

Masks are encouraged.

The Exchange is wheelchair accessible and offers 2 non-gender/wheelchair-accessible washrooms.

The Exchange is an all-ages venue that supports the Safer Spaces Initiative. We do not tolerate any form of harassment, abusive and/or discriminative behaviour. Such behaviour is grounds for immediate removal from the event/venue. If you are experiencing any harassment please ask to speak to a manager.

Ticket price plus taxes and fees - line ups subject to change - no refunds or exchanges
---