Cups N Cakes Network Showcase w/ The Garrys, Zoon, Beach Body, Okimaw - Winterruption
---
---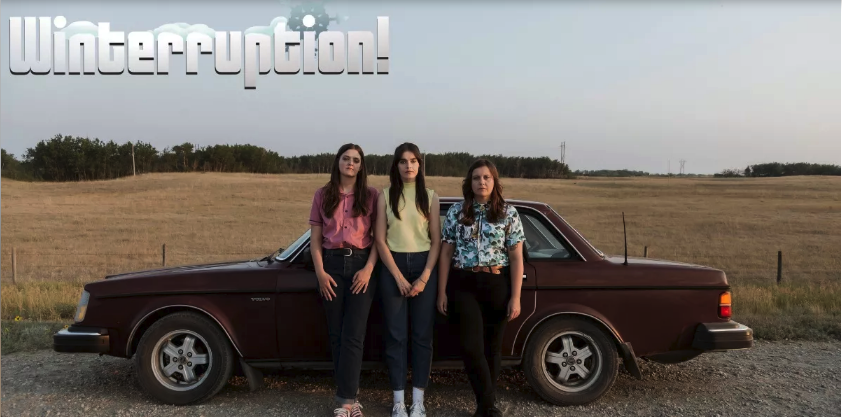 Regina Folk Festival Presents: Cups N Cakes Network Showcase
Thursday, Jan 26th
The Exchange 2431 8th ave
The Garrys
Zoon
Beach Body
Okimaw
Doors @ 7:30PM
Show @ 8:30PM
Advance Tickets $24 + Door Tickets are $30
This is an all ages & licensed event
------------
This show will offer a mix of seating and standing room.
All Ticket holders must be prepared to show ID at the door.
Lineup and schedule subject to change.
NO EXCHANGES OR REFUNDS.
Masking is required at all shared, indoor spaces at the Regina Folk Festival. Information on the Regina Folk Festival's COVID-19 Procedure can be found here: https://reginafolkfestival.com/covid19procedure
Join us to check out some Very Cool Bands who've been championed by the independent, Canadian media network, Cups N Cakes! The show will be hosted by Cups n Cakes founder and exiting organizer Jeff MacCallum, who is handing over the reins to Sean Newton after the live taping of the 200th edition (and last) Cups n Cakes radio show.
------------
THE GARRYS
The Garrys are a trio of sisters from the coldest part of the landlocked Canadian prairies. Formed in the spring of 2015, The Garrys use layered 3-part blood harmonies, hazy sun-bleached melodies, classic lo-fi guitar tones, and syncopated surf beats to create a unique "doom-wop" sound, dripping with dark nostalgia and touched by psychedelic dread. Their music is likely to leave you with an urge to do the Watusi, bittersweet thoughts about slow-dancing with your middle school crush, or a nagging feeling that it's not quite safe to go back into the water.
ZOON
By Cam Lindsay
In the Ojibway language, the word Zoongide'ewin means "bravery, courage, the Bear Spirit." It's no wonder Daniel Monkman adopted Zoon as his musical moniker. The Hamilton-based musician has spent the better part of his 28 years finding and channelling his strength to overcome such adversities as racism, poverty and addiction.
Music saved Monkman's life. And, on Zoon's debut album, Bleached Wavves, he paints a message of hope and fortitude, lessons he learned studying the Seven Grandfather teachings after experiencing the lowest point of his life.
Born and raised in Selkirk, Manitoba, a small prison town outside of Winnipeg he describes as "one of the roughest places," Monkman constantly faced an uphill battle. In his teens he was victimized for his First Nations heritage, which led to him abusing drugs and alcohol as a coping mechanism. His best friend died of an overdose; he nearly followed him on multiple occasions. But with the spiritual guidance he learned from 12-step therapy, Monkman got clean and began to follow a passion for music he discovered from a young age growing up within the Brokenhead Ojibway Nation.
Bleached Wavves is the first true document of what has been dubbed "moccasin-gaze," a tongue-in-cheek nickname for the amalgamation of Monkman's shoegaze influences with traditional First Nations music. Like My Bloody Valentine's Loveless, a record that changed everything for him, Zoon pushes forward that famously quixotic, effects-laden sound with a distinctive, new approach.
A song like "Help Me Understand," which mixes traditional hand drumming with gliding waves of droning guitar, feels like new ground has been broken for shoegaze fanatics to obsess over. As he got more into this mindset of mixing cultures, Monkman went even further with his trials, emerging with his most radical vision, the trance-inducing "Was & Always Will Be."
Like most things in his life, making the album didn't come easy for Monkman. His gear was stolen, leaving him with virtually nothing and forcing him to get creative. He recorded the songs in his bedroom and his jam space, using only a Fender Deville guitar, a DigiTech delay pedal and - channelling his hero Kevin Shields - some "reverse engineering." 
Once it was finished, he got music into the hands of the late publicist Darryl Weeks, who quickly became a fan of what he heard. With Weeks' guidance and industry knowledge, Monkman found an ally willing to help out. He also found a label: Weeks passed on the record to fellow shoegaze enthusiast Trevor Larocque at Paper Bag Records, who offered to give Zoon a home.
While there is a healthy population of nu-gazers creating beautiful noise all over the world, Zoon's debut stands out from all the others. Bleached Wavves is notable not just for its breathtakingly inimitable sounds and giving birth to a newfangled subgenre (see "moccasin-gaze"), but also for its modest, resourceful creation, the sign of a true sonic genius-in-the-making.
BEACH BODY
"They were fine" - Brooklyn Vegan
OKIMAW
OKIMAW is the roots-rock music project ofnêhiyaw/Plains Cree multi-instrumentalist and producer Aren Okemaysim. Originally from Beardy's & Okemasis Cree Nation in Treaty 6 territory, he now calls Regina, Saskatchewan home, which is located in Treaty 4 territory.
In 2020, Aren produced an unpublished10-song demo of original music in his family's garage over the span of 2 weeks, all of which he performed, recorded, and engineered himself. Over the next year and a half, he sought the help of engineer Orion Paradis at SoulSound Studio in Regina, SK who helped him produce what would eventually become OKIMAW ᐅᑭᒪᐤ by taking 7 of those songs from the demo and hiring a group of Saskatchewan musicians to re-record each part.
His debut album focuses on topics such as race relations in Saskatchewan, residential schools, MMIWG, his love/hate relationship with the land, long-distance relationships, and of course –love. OKIMAW released on January 21st, 2022, to all major streaming platforms and has been gaining some traction on community radio stations across Canada as well as CBC Saskatchewan.
Aren will be taking a stripped-down version of this project on the road as a solo acoustic act over the course of 2022/2023. Future updates and show announcements can be found online through social media outlets and the project's website, okimawmusic.ca
-kinanâskomitin
The Exchange is wheelchair accessible and offers 2 non-gender/wheelchair-accessible washrooms.

The Exchange is an all-ages venue that supports the Safer Spaces Initiative. We do not tolerate any form of harassment, abusive and/or discriminative behaviour. Such behaviour is grounds for immediate removal from the event/venue. If you are experiencing any harassment please ask to speak to a manager.
---