Christine Tassan et les Imposteures
---
---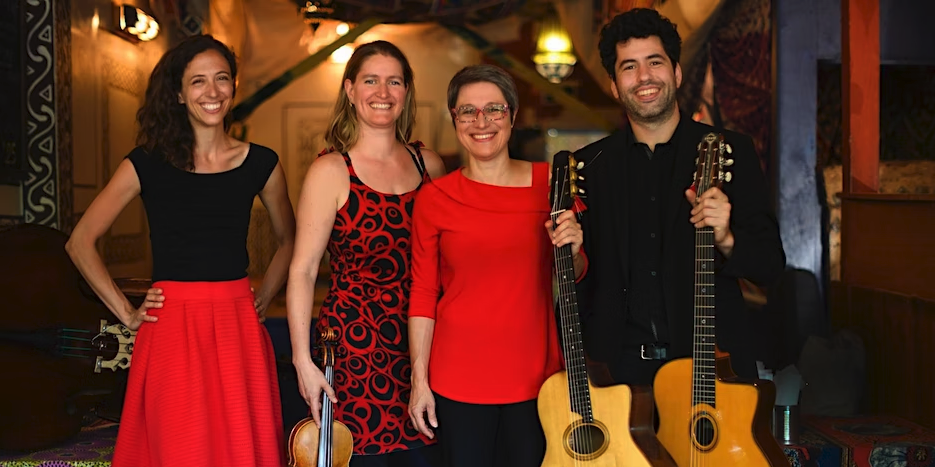 Sunday, October 30th
Grassroots Regina presents:
Christine Tassan et les Imposteures
(Quebec)
2431 8th ave Regina Sk.
This is an all ages & licensed event
Doors at 7:30pm

The band is comprised of four exquisitely talented musicians who perform their unique style of gypsy jazz that features works by Django Reinhardt, Félix Leclerc and American swing composers blended with traditional Québécois music.
Christine Tassan emigrated from her native Paris to Montreal in 1994; bringing with her her love of the great French standards and jazz manouche. In 2003, she teamed up with traditional and classical violinist extraordinaire Martine Gaumond, jazz guitarist Lise-Anne Ross, bassist Blanche Baillargeon and Christine Tassan et les Imposteures was born. The name "Imposteures" is a not-so-subtle jab at the long-standing tradition of gypsy jazz as a male-only domain. Brushing aside this taboo, these four talented young women were so smitten by this infectious acoustic jazz music that they dove into the genre headfirst and formed Canada's only female gypsy jazz ensemble.Jeff Moseley now replaces Lise-Anne Ross as their regular rhythm guitarist.
With a decade and a half of bringing their special blend of gypsy jazz and revisited cover songs, Christine Tassan et les Imposteures have made a name for themselves on the music scene. The show of these four exquisitely talented musicians brings together some of the best works by Django Reinhardt, Félix Leclerc and American swing composers. With a singular mix of virtuosity, daring and humour, the string band draws inspiration from one artist's poetry and the other's swing to weave a rich new musical universe. They've expanded their concept to the wonderful swing music of some contemporary "friends" of Django and Félix. They revisit hit songs created by George Gershwin, Louis Prima or Charlie Chaplin and blend them nicely with Django's beautiful melodies.
Christine Tassan et les Imposteures released their first full-length album, De bon matin, in 2007 and have subsequently released five additional albums; their most recent, Django Belles, in 2018.



About the Exchange
Proof of vaccination is no longer required.
Masks are encouraged.
The Exchange is wheelchair accessible and offers 2 non-gender/wheelchair-accessible washrooms.
The Exchange is an all-ages venue that supports the Safer Spaces Initiative. We do not tolerate any form of harassment, abusive and/or discriminative behaviour. Such behaviour is grounds for immediate removal from the event/venue. If you are experiencing any harassment please ask to speak to a manager.
Prices include taxes and fees - line ups subject to change - no refunds or exchanges
---