Choir! Choir! Choir! - Winterruption
Jan 24, 2020
---
---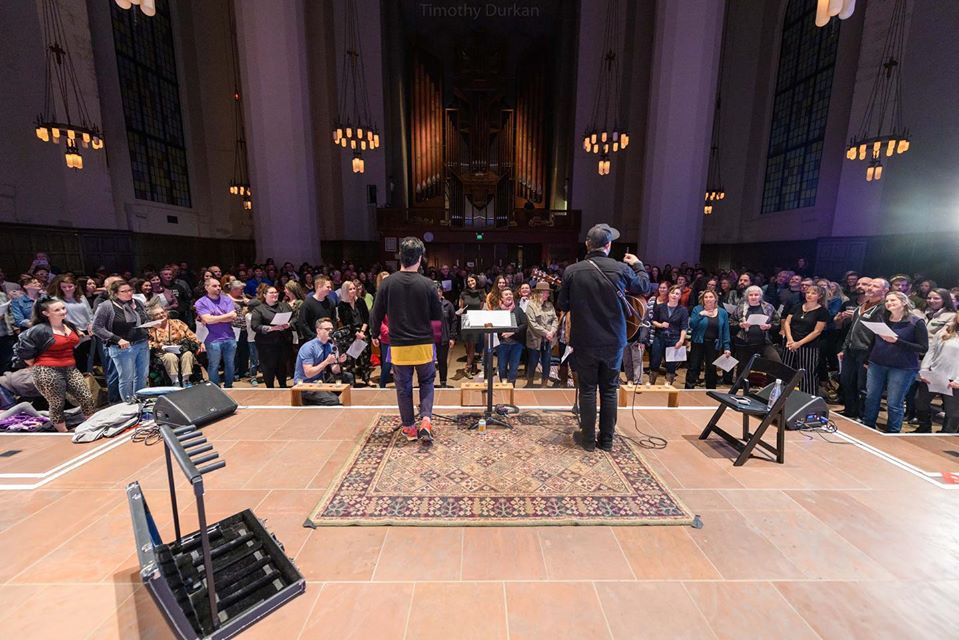 Regina Folk Festival Presents: Winterruption 2020
Choir! Choir! Choir!
------------
CHOIR! CHOIR! CHOIR!
Choir! Choir! Choir! is a Toronto-based singing group led by creative directors Nobu Adilman and Daveed Goldman. The duo takes a non-traditional approach; there are no auditions, and the audience is the choir. Just show up and they'll teach you an original arrangement to a song you love. Founded in 2011, Choir! Choir! Choir! has amassed a dedicated and passionate community of singers and a thriving international fan base on YouTube amassing 10s of millions of views on some of their videos. Choir! Choir! Choir! exists to celebrate music and push the boundaries between practice and performance, artist and audience, offering therapeutic benefits with the ultimate side effect: a powerful community.
https://www.facebook.com/choirx3/

------------
Doors @ 7:30, Show @ 8:00
Advance Tickets $25, Door Tickets $32
This show will offer a mix of seats and standing room.
------------
WE WILL RETURN TO YOUR REGULARLY SCHEDULED WINTER IN JUST A MOMENT
------------
Win-ter-rup-tion /ˈwin(t)ər'rəpSH(ə)n/
1. 45+ artists, 13 groups, 5 super cool days, 6 musical shows, 2 venues
2. stop the continuous progress of the coldest season of the year
3. a frosty good time
In 2020, the magical beast that is Winterruption turns 5! As part of the 2019 RFF Concert Series and with a taste of the summer Festival itself, we at the RFF along with our founding partner The Broadway Theatre in Saskatoon will present 5 wonderful days of musical warmth on some of the coldest days of the year. This year we will be expanding across the prairies partnering with Winterruption YEQ and Big Winter Classic in Calgary. On January 22nd through 26th Regina will get a whole lot cooler thanks to Winterruption. Each year varies from each other in form and content but are always unequivocally beautiful successes and we look forward to sharing great music with Regina audiences once again.
---