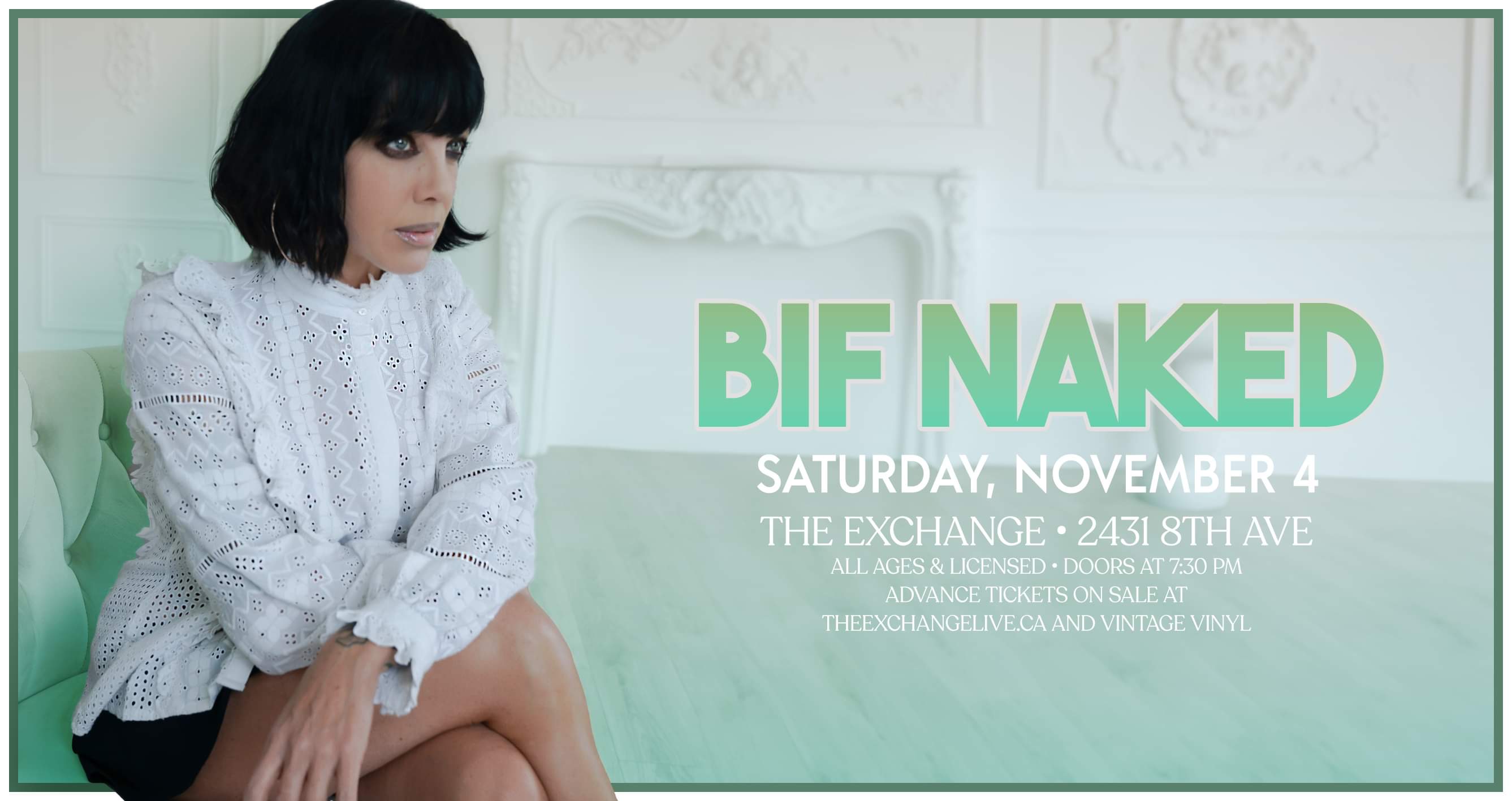 Tickets
Saturday, November 4
104.9 The Wolf Presents:
Bif Naked
The Exchange - 2431 8th ave
This is an all ages and licensed event
Doors at 7:30 pm
$35 Adv - $40 Door


Bif Naked
BIF NAKED was born in secret, to a teenager living in India, the product of a Canadian girl and a British boy, She was rejected by both families, hidden away in a mental hospital from her diplomat-grandparents' society and politico friends. Adopted by American missionaries, and after years of legal hurdles, eventually gaining her and her adopted sister's release from India they returned to North America. She embarked on what she recalls with humour as a "charmed life". A childhood of secret abuse, running away, targeted beatings by girl gangs, she was institutionalized for alcohol abuse as a teenager and sexually targeted, preyed upon by a long list of adult predators. She escaped this early life by joining a punk rock band and left on tour, she married the drummer became pregnant and under extreme duress she aborted the unborn child and later the marriage and continued on a deadly downward spiral which culminated when she hit the floor of a Vancouver drug den overdosed.
All of this before her 21st birthday.
Through it all, her creative and academic potential, multiple personalities, and her unstoppable humour were her weapons of self-defence. Bif showcased her life's journey etched in tattoo ink across her body and with her unique ability to transform her true life stories into song lyrics, she found her voice as a solo artist, started her own record company Her Royal Majesty's Records and at 23 years of age became a Platinum and Gold Album selling International Recording Artist. Throughout her remarkable career, armed with her unique talent and instantly identifiable look, Bif would captivate the imagination of audiences and media alike, releasing ten albums and 24 videos. She embarked on seemingly endless international tours, several feature films and multiple television roles, only to be struck down with breast cancer at the age of 37, the newly married Bif would discover the passion for advocacy and a triumphant return to health and what she cherished most of all- her own resilience, strength and her unfaltering relationships with her adopted (dog) children Anastasia the bichon Frise, and Nick Naked her Maltese poodle dog. It's already been a long, winding road... this is Bif Naked's story so far....
________________
About the Exchange
Proof of vaccination is no longer required.
Masks are encouraged.
The Exchange is wheelchair accessible and offers 2 non-gender/wheelchair-accessible washrooms.
The Exchange is an all-ages venue that supports the Safer Spaces Initiative. We do not tolerate any form of harassment, abusive and/or discriminative behaviour. Such behaviour is grounds for immediate removal from the event/venue. If you are experiencing any harassment please ask to speak to a manager.
Ticket price plus taxes and fees - line ups subject to change - no refunds or exchanges
---