Augurium, Cell, Kryotic, Mycelia
Sep 2, 2023
---
---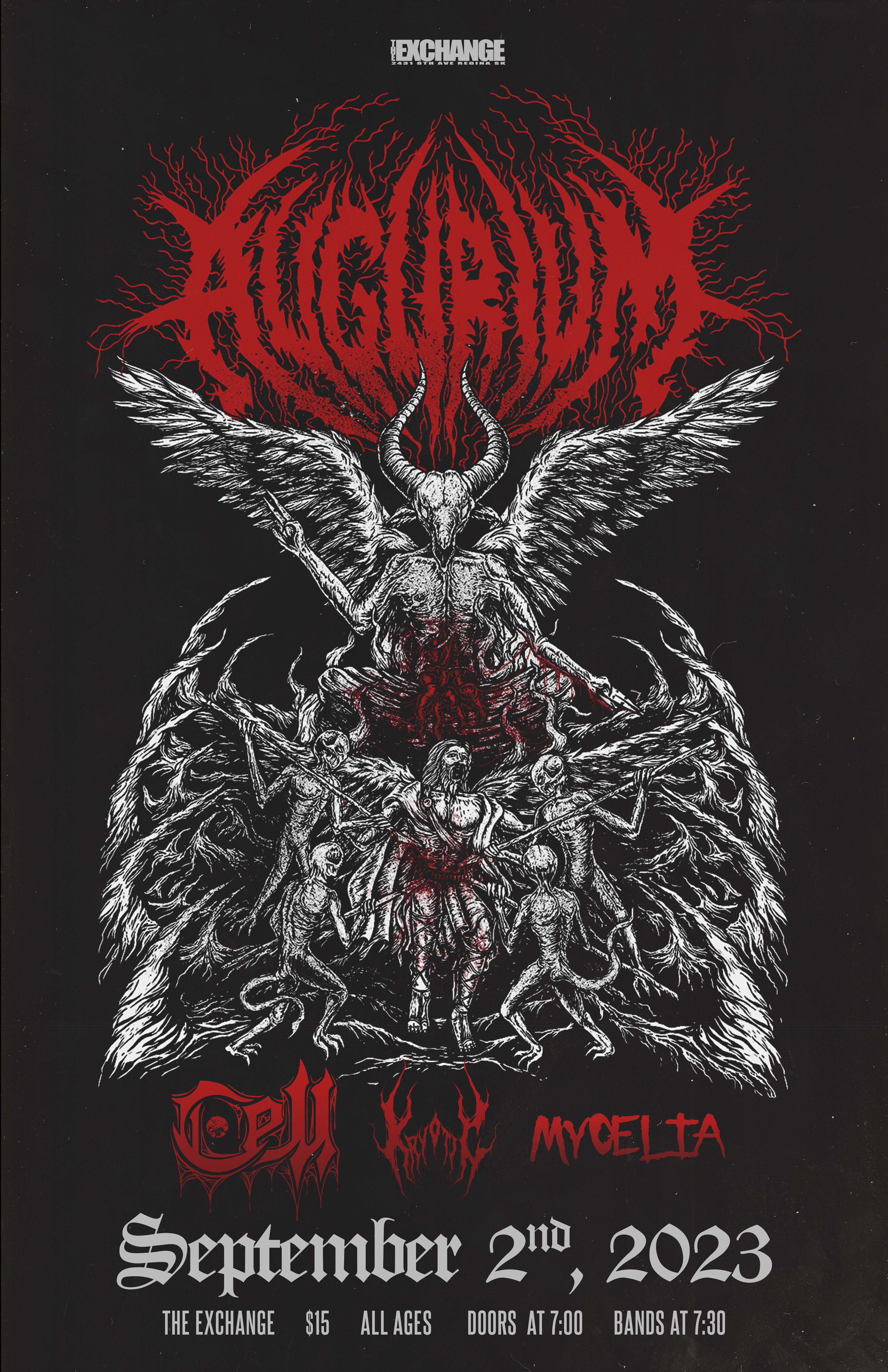 Saturday, September 2nd
Augurium
Cell
Kryotic
Mycelia
The Exchange - 2431 8th Ave
This is an all-ages and licensed event
Doors at 7 pm - Bands at 7:30 pm
$15 adv / $20 Door
Augurium
Augurium is a five piece death metal band hailing from Regina, SK.
Unhallowed Ascendance out now!
https://www.facebook.com/AuguriumSK
Cell
Cell is a three-piece conceptual cosmic black metal band that formed in 2014 reigning from Winnipeg, Canada. They blend elements of old school and modern black metal with hints of death metal, hardcore, thrash, and doom to create reality-altering unrelenting cosmic black metal. Their concept is based on a science fiction comic book idea that Hyperion (guitar/vocals) was working to bring to life, but decided instead to turn into music. There is a lot of cathartic emotion put into each song that connects to each member on a personal level while keeping within the dark sci-fi concept and using metaphors of what we as humans do to this planet and the life on it. Using these topics, it's easy for Cell to let everything out on stage every during every performance. They use a lot of art and theatre within the live show including using corpse paint, blood, armor, pro audio lights, and lasers. To see our show is to experience something emotional, aggressive, theatrical and cosmic.
https://www.facebook.com/cellcosmicgods
Kryotic
Ambient blackened death metal from Saskatchewan.
https://www.facebook.com/kryoticmetal
Mycelia
About the Exchange
Proof of vaccination is no longer required.
Masks are encouraged.
The Exchange is wheelchair accessible and offers 2 non-gender/wheelchair-accessible washrooms.
The Exchange is an all-ages venue that supports the Safer Spaces Initiative. We do not tolerate any form of harassment, abusive and/or discriminative behaviour. Such behaviour is grounds for immediate removal from the event/venue. If you are experiencing any harassment please ask to speak to a manager.
Ticket price plus taxes and fees - line ups subject to change - no refunds or exchanges
---