Disney Amped Up - A tribute
Jun 17, 2023
---
---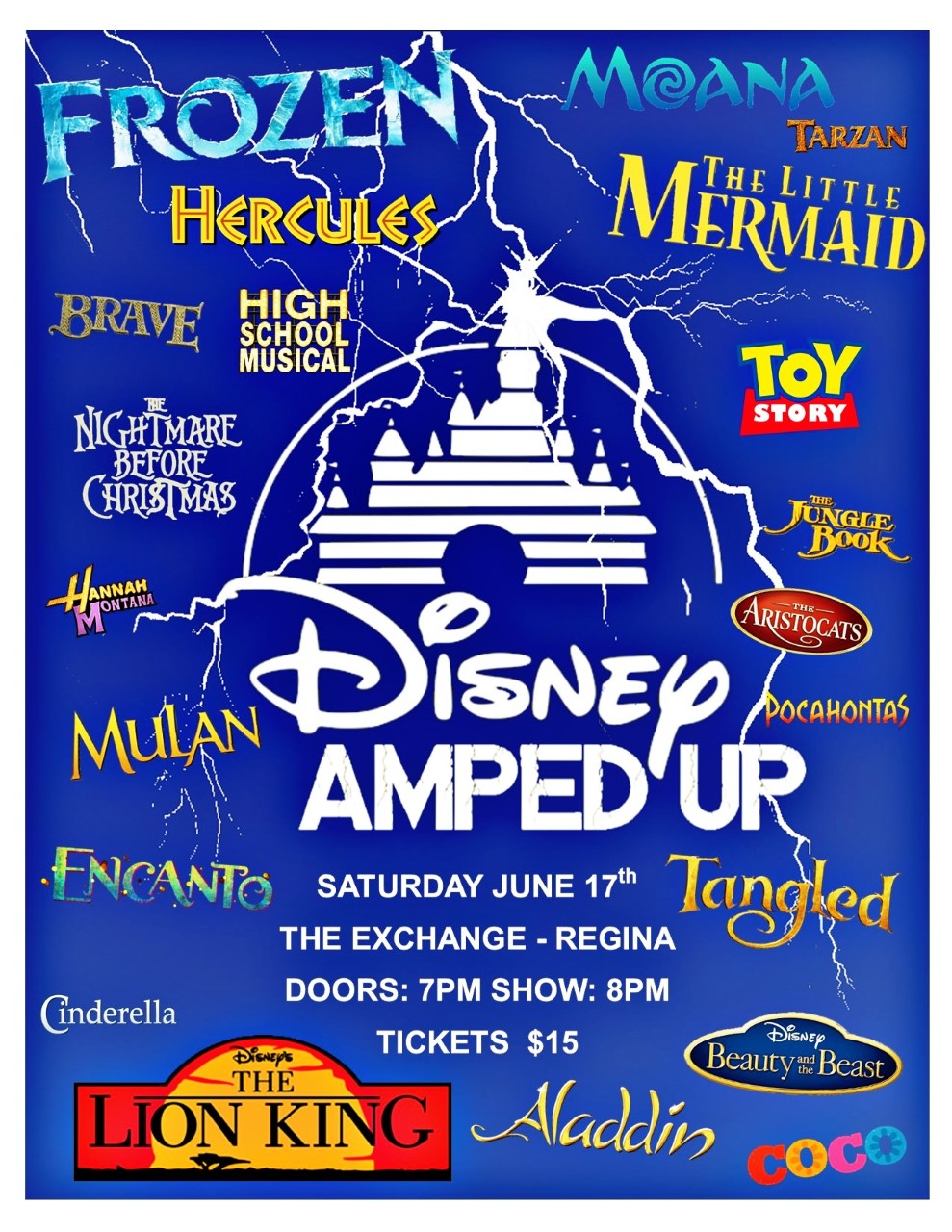 Tickets
Saturday, June 17th
Disney Amped Up - A tribute
The Exchange 2431 8th ave
All Ages & licensed
Doors at 7:00 pm Show at 8:00 pm
Ever wonder what it would sound like if your favourite Disney songs got a modern makeover? Well, wonder no longer!
We've turned all the classics (new and old) into the kind of music they were meant to be – from pop to alternative, punk-rock to metal, and everything in between. If your idea of a fun night is screaming along to I Just Can't Wait To Be King, with a drink in your hand, surrounded by friends, this is the show for you!
We've taken a few creative liberties, but we also know there's a reason these songs are so beloved. So we've gone through every effort to make sure they still feel like the songs you know and love, just with a slight twist.
This show is open to all ages, but we do expect the majority of the audience to be tipsy adults who loved these songs as kids and, much like us, never quite grew out of it. Feel free to bring your kids, with fair warning that there may be some adult language and commentary from the stage. It's a rock concert after all so, even though it's Disney music, don't expect a Wiggles type of show!
We have absolutely loved putting these songs together and CANNOT WAIT to play them for a crowd of crazy Disney fans.
Can't wait to see you all there, and if you have a Disney-inspired outfit this is the night to wear it!
(This is the same band who did the acoustic When We Were Young cover show. So, if you made it to that, you have an idea of what to expect, only this time with a full band.)
Cheers!
About the Exchange
Proof of vaccination is no longer required.
Masks are encouraged.
The Exchange is wheelchair accessible and offers 2 non-gender/wheelchair-accessible washrooms.
The Exchange is an all-ages venue that supports the Safer Spaces Initiative. We do not tolerate any form of harassment, abusive and/or discriminative behaviour. Such behaviour is grounds for immediate removal from the event/venue. If you are experiencing any harassment please ask to speak to a manager.
Prices include taxes and fees - line ups subject to change - no refunds or exchanges
---