Alex Flett - The Sun Dragon Band
Jul 8, 2023
---
---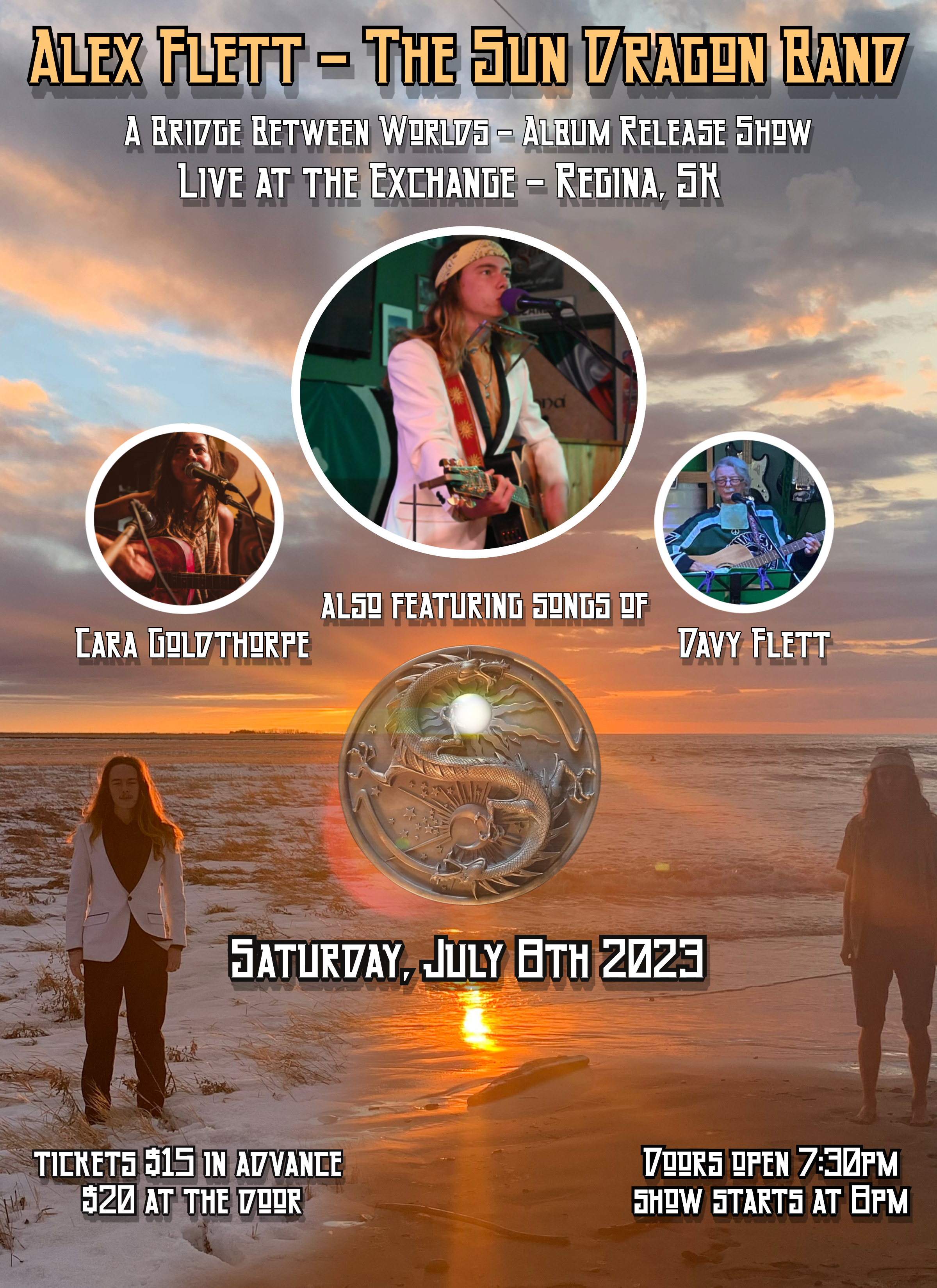 Saturday, July 8
Alex Flett - The Sun Dragon Band
The Exchange 2431 8th Ave
All Ages and Licensed
$15 adv $20 Door
Doors at 7:30 pm Show starts at 8 pm


Join Alex Flett in celebrating the release of his latest album - "A Bridge Between Worlds". This will be the big stop of Flett's tour of Western Canada this summer, in his hometown of Regina. Normally he plays as a "One Man Band" (guitar, harmonica and percussion all at the same time). However, for this special night only a full band will be joining in to play his original songs. The night will also feature songs of his wife Cara Goldthorpe (they play together as a duet "Flett & Goldthorpe") and his dad Davy Flett.
"A Bridge Between Worlds" is Alex Flett's second full-length album. Born in Costa Rica yet raised in Saskatchewan, Flett is inspired by diverse lands. He seeks to connect with people from all different walks of life, uniting them through his music. The title of this album implies finding a connection between places so different you feel like they could be two completely different planets. Some songs were written in Saskatchewan, others in Costa Rica. In a time where Climate Change is humanity's greatest threat, people from all corners of the globe must learn to build bridges instead of walls, to find solutions to problems that transcend the borders of individual countries and continents.
Band members include:
Alex Flett: Guitar, harmonica, voice
Cara Goldthorpe: Guitar and voice
Davy Flett: Guitar and voice
Brandt Wanner: Drum kit
Sam Hallett: Keyboard


About the Exchange
Proof of vaccination is no longer required.
Masks are encouraged.
The Exchange is wheelchair accessible and offers 2 non-gender/wheelchair-accessible washrooms.
The Exchange is an all-ages venue that supports the Safer Spaces Initiative. We do not tolerate any form of harassment, abusive and/or discriminative behaviour. Such behaviour is grounds for immediate removal from the event/venue. If you are experiencing any harassment please ask to speak to a manager.
Prices include taxes and fees - line ups subject to change - no refunds or exchanges
---