WINTERRUPTION - JULIAN TAYLOR W/ THE NORTH SOUND - APRIL 2, 2022
---
---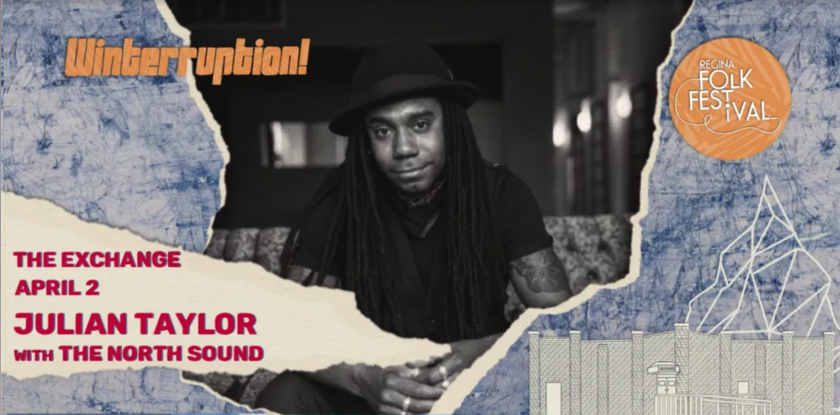 JULIAN TAYLOR & THE NORTH SOUND @ THE EXCHANGE, 2431 8th Ave, Regina SK
Doors: 7:30 PM
Show: 8:30 PM
Advance Tickets: $30 + GST & Showpass fees
Door Tickets: $40 incl GST & Showpass fees
All patrons, staff, volunteers, and artists attending and/or working RFF events must be fully vaccinated against COVID-19 (This means you must have received your second dose two weeks prior to the day of the show you wish to attend) and provide proof of vaccination. Those who are unable to provide valid proof of vaccination will be denied entry to the event. The RFF is currently not accepting a negative COVID-19 test result as an alternative to vaccination.

Masks are also required at this time.

More information on the Regina Folk Festival's Vaccine Procedure, including acceptable forms of proof of vaccination, can be found here: reginafolkfestival.com/vaccines
More information on the Exchange's COVID-19 Live Event Policy can be found here: https://theexchangelive.ca/pages/covid-19-live-event-policy

If you are exhibiting any symptoms of COVID-19, or if you have tested positive for COVID-19 in the 2 weeks prior to the event, we ask that you transfer your ticket to someone who can attend, or contact the Regina Folk Festival for a refund. 
OTHERWISE, NO EXCHANGES OR REFUNDS.
Lineup and schedule subject to change.
This show will offer a mix of seating and standing room.
If any specific accommodations are required to ensure you have a nice time, please contact the Regina Folk Festival directly at [email protected] or 306 757 0308
-----------
JULIAN TAYLOR
Toronto-based singer/songwriter Julian Taylor evolves creatively as a songwriter with eight deeply intimate songs that comprise his striking new solo effort, The Ridge. Recorded at The Woodshed, Blue Rodeo's Toronto-area studio, is an album of a songwriter clearly embracing his prime. Taylor's extensive experience as bandleader, band-member, and solo artist has all prepared him for how to best zero in on his prime directive as a songwriter. "I've been able to carve out my own niche as a musician because I feel like I can do want I want to," says Taylor. "I've been able to go back to the drawing board as I keep experiencing failure after failure and see how I've grown and learned from those failings. And I'm ok with that. I'm here because of the people who love and support me, my belief in myself, and the ability to get up every time I haven't succeeded to keep on trying. I feel so fortunate to have created the music that's on The Ridge. I'm really proud of it."
Each song on The Ridge represents an acoustic-driven mixture of styles that reflects Taylor's range as a creative force by building upon the templates raged during his tenure fronting the alt-rocking collective Staggered Crossing as well as the fine funk and R&B-driven foundation he continues to mine with the still-active Julian Taylor Band. From the title track's ruminations on Taylor's formative days spent on his Grandparent's farm in British Columbia to the hopeful swoon of "Over the Moon" to the tribal-energy landscape that permeates "Ballad of the Young Troubadour" to the Tex-Mex Canadian-Western vibe mashup of "Love Enough," the honest, raw nature of The Ridge enables listeners a myriad of personally relatable entry points into Taylor's enlightening narrative tales.
Taylor has an inherently cinematic approach to his storytelling and that has a lot to do with his heritage and upbringing. "It's an interesting thing to be part Mohawk and part West Indian, because I've always had this feeling that I never fit in anywhere," he admits. "As a mixed person, it's like, oh, where do you go, and how do you connect with people? That's all I've been trying to do, and my life experience as a person who is mixed helps me do that. These stories are all coming from a person who tries to fit in, but doesn't quite fit in. That's really what my work has always been about — that longing to be a part of something."
Ultimately, what the music within the grooves of The Ridge conveys is that you cannot label or confine Taylor to any given genre box — and that's exactly what he prefers. "That's always been my thing — not wanting to be put into a box," he acknowledges. "My work has always reflected that. Once people find out how that thread runs throughout my career and with all my work, they'll notice I never wanted to play the box game. They'll find out I really love all kinds of music and I just want to make music that I love — and I think The Ridge brings all of those things together."
THE NORTH SOUND
The North Sound is ever-changing with lyrics spanning across haunting metaphors and a sound balanced between today's modern production and the era of Gram Parsons and Emmylou Harris blazing the highways. The group was formed in 2014 by lead singer, songwriter and multi-instrumentalist Forrest Eaglespeaker with his partner Nevada Freistadt supplying harmonies. The North Sound was created to share stories in keeping with Forrest's Blackfoot identity and traditions from Treaty 7 Territory. The North Sound has had four singles reach #1 on the Indigenous Music Countdown as well as Saskatchewan's MBC Radio, has won the Saskatchewan Music Award for Indigenous Artist of the Year, was nominated for Roots Album of the Year at the 2021 Summer Solstice Indigenous Music Awards, and has received three nominations from the Saskatchewan Country Music Awards. Forrest and Nevada also have a working relationship with JUNO-winner Crystal Shawanda and her partner Dewayne Grobel, owners of independent record label New Sun Music. Sharing the stage with the likes of Blue Rodeo, Kathleen Edwards, Eagle and Hawk, Derek Miller, Susan Aglukark, Celeigh Cardinal, Logan Staats, and many more, The North Sound has performed at multiple venues and festivals across Canada and the United States. Most recently they performed on APTN's Indigenous Day Live 2021. Scott Roos from Exclaim! says The North Sound's latest album, As the Stars Explode, "offers a fresh take, both musically and lyrically" and "takes a different route compared to the usual country music norms that at times stifle the genre, and it really works."

Refund Policy
If you are exhibiting any symptoms of COVID-19, or if you have tested positive for COVID-19 in the 2 weeks prior to the event, we ask that you transfer your ticket to someone who can attend, or contact the Regina Folk Festival for a refund.  OTHERWISE, NO EXCHANGES OR REFUNDS.




About the Exchange
Masks are required.
*All patrons, staff, and performers must provide proof of vaccination for entry.
www.ehealthsask.ca/MySaskHealthRecord/MySaskHealthRecord/
The Exchange is wheelchair accessible and offers 2 non-gender/wheelchair-accessible washrooms.
The Exchange is an all-ages venue that supports the Safer Spaces Initiative. We do not tolerate any form of harassment, abusive and/or discriminative behaviour. Such behaviour is grounds for immediate removal from the event/venue. If you are experiencing any harassment please ask to speak to a manager.
*We will accept your MySaskHealthRecord QR Code, printed copy, a screen capture of your vaccination record, the card you received when you received your vaccination, or your negative test result. Your proof of vaccination or negative test result must include your name, and match a piece of photo identification.

We will not retain any of this information, staff verifying are required to keep your information confidential. You can access your Saskatchewan vaccination records here: MySaskHealthRecord
Out-of-Province records of vaccination may also be accepted.
---