Psycroptic, Skeletal Remains, Conjurer
Sep 19, 2019
---
---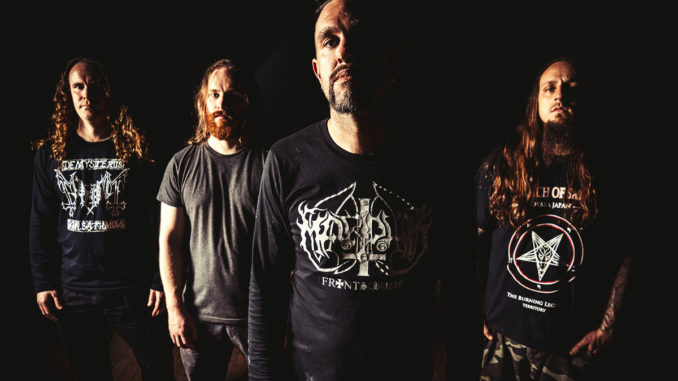 The Exchange Presents:

Psycroptic
Skeletal Remains
Conjurer
Sept 19
The Exchange
All Ages - Licensed
Advance tickets available at Vintage Vinyl, Madame Yes, and online at theexchangelive.ca
Psycroptic
https://www.facebook.com/psycroptic/
http://www.psycroptic.com
Tasmania is known for two things; the Tasmanian Devil and having produced one of the leaders of the modern death metal scene, Psycroptic. Since their formation in 1999, the band have constantly evolved and broken through the boundaries that the genre can sometimes impose upon itself. With the release of their seventh studio album, As The Kingdom Drowns, an album of riff-filled, technical ecstasy, Psycroptic just may have outdone the devil.
Formed by brothers Dave and Joe Haley, Psycroptic have always lived in that very small space between technical and metal. The over the top insanity peaked with their sophomore album, 2006's Symbols of Failure. From there the band looked to smooth things out a bit, whether it was with some ambience or industrial elements in 2008's Ob(Servant) or focusing in on the groove on 2012's, The Inherited Repression. 2015's Psycroptic seemed to encompass all that the band had done, so where does one go from there? For the band, it was somewhat easy.
The self-titled album gave the band a new and solid platform to launch off of, making experimentation easier. The hard part was where to go and just how far to take it. Singer, Jason Peppiatt comments, "As always with this band we wanted it to have the distinctive sound of a Psycroptic album but wanted to push ourselves further with adding new elements and having a darker vibe than on previous releases. I think we achieved our goal and this is something we are all very proud of!"
D. Haley adds, "It's always a challenge to continue to evolve as a band, while staying true to the path you've chosen to walk on. With As The Kingdom Drowns we all pushed each other outside of our usual comfort zones, and didn't settle for the easy way out. I'm super proud of everyone's hard work and dedication to the project; it turned out to be one hell of a catchy riff filled album."
Riffing is the key standout on the new album. The band chose to lean more towards the metal than the technical and branch out from there. The lead off track, We Were The Keepers has an almost symphonic feel to it. A huge, layered chorus makes this one of the most memorial death metal song heard in quite some time, though that machine gun riff that destroys the bridge certainly helps the cause. The album's next track, Frozen Gaze, can be described as an exercise on how to fill as many hooks into a 4 minute track and make it as seamless as possible. Directive comes next, slowing it down quite a bit, packing a huge punch, but still showcases J. Haley's fingers all over the fretboard. The first three tracks set the mood for the rest of the album, with each subsequent song encompassing some of their elements, though at no point seeming rehashed. The standout on the later part of the album is Upon The Stones, which starts off with a dark, doomy riff laid upon thunderous drums that wouldn't sound far removed from a Triptykon album. J. Haley soon scales his way all over the guitar and brother Dave closes it out with an atmospheric drum off before Jason Peppiatt's back howling at the moon, giving it that Psycroptic touch.
As Psycroptic approaches their 20 year anniversary, it's nice to see them sounding as fresh as ever. With age comes wisdom and maturity. All the band's previous work got them to where they
are at today. Comfortable in their own shoes, nothing to prove, being able to look back at their earlier years with pride and seeing a long road ahead that they know they are ready to tackle.
Select Discography:
The Isle of Disenchantment (2001)
The Scepter of the Ancients (2003)
Symbols of Failure (2006)
Ob(Servant) (2008)
The Inherited Repression (2012)
Psycroptic (2015)
As The Kingdom Drowns (2018)
Skeletal Remains
https://www.facebook.com/SkeletalRemainsDeathMetal/
http://skeletalremains.bigcartel.com
Californian death metal act SKELETAL REMAINS will release their forthcoming third studio album, entitled "Devouring Mortality" on April 13th, 2018 via Dark Descent Records in North America and Century Media Records for the rest of the world. Tracked at Trench Studios (Abysmal Dawn, Exhumed, Hirax, etc.) in California and mixed by Dan Swanö at Unisound Studio (Asphyx, Dissection, Bloodbath, etc.), the record's artwork was created by Dan Seagrave (Entombed, Morbid Angel, Pestilence etc.), to much excitement of vocalist, guitarist and main composer Chris Monroy: "Having the opportunity to work with Dan Seagrave on the artwork was a dream come true for us, and Dan Swanö, man he really made our album sound huge and heavy as fuck! It is a true honor to be able to work with these two legends. We can't wait to share it with all the fans of death metal!"
To give you a short run down of the band's history, SKELETAL REMAINS formed as Anthropophagy back in 2011, and released the two much lauded studio albums "Beyond The Flesh" (2012) and "Condemned To Misery" (2015) via German label FDA Rekotz, constantly toured Europe, the US or also Japan, performed at such renowned festivals as Maryland Death Fest, Party.San, Brutal Assault, Obscene Extreme or also Hellfest, and now seek to expand upon that with "Devouring Mortality". Inspired by acts like early Pestilence, Gorguts, Morbid Angel, and Demolition Hammer, the new record proves to be the band's most diverse and crushing opus to date and contains a whole lot of outstanding tracks. No matter if it is the scorching first single 'Seismic Abyss', the dynamic 'Catastrophic Retribution', 'Parasitic Horrors' or 'Reanimating Pathogen', SKELETAL REMAINS blend elements of death and thrash metal with blazing solos uniting influences from such a melodic master like James Murphy (Death, Cancer, Obituary, Testament) to the divebombing assault of Rick Rozz (Death, Massacre). "The album is basically the next step up for us! It's a bit more technical compared to our first two albums and we have also used seven string guitars for some songs to add a heavier edge at times, but overall it has the same sound and feeling of our previous releases: Old school death metal from the late 80s and early 90s with a little bit of our own taste added to it!"
So make sure to listen to "Devouring Mortality" as it might be one of 2018's finest slabs of death metal and totally lives up to the band's perspective.
Conjurer
https://www.facebook.com/conjureruk/
http://www.conjureruk.bigcartel.com
https://twitter.com/ConjurerUK
Conjurer have been whipping up a frenzy in venues up and down the UK with their intoxicating brew of extreme metal styles since February 2015. Their 2016 EP I was an incredibly promising amalgam of sludge, hardcore, prog, black and death metal, even if it never quite managed to re-create the intense pummelling onslaught that was their live show. However, Mire takes many bold steps forward; an increased running time allows a broader canvas for the band to fully explore their idiosyncrasies and expansive tendanceis. Sludgy tar-thick riffs collide with oppressively ominous atmospherics, which are then punctuated with the odd frantic, gut-churning burst of speed to create an unholy maelstrom that has already seen Mire hailed as one of the most outstanding, visceral, sonic experiences of 2018 across the metal press.
---