Yellow Brick Trip - FadaDance X-Mas Party
---
---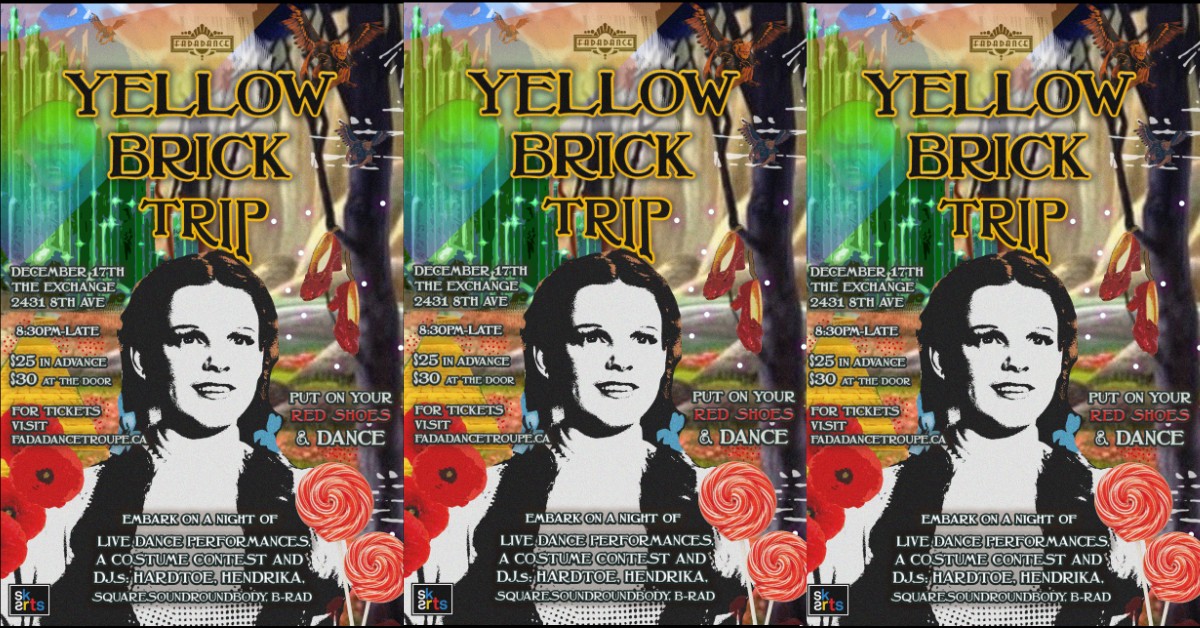 FadaDance Troupe Presents:
Yellow Brick Trip
"Put on your red shoes & dance!"
Saturday, December 17th
The Exchange | 2431 8th Ave
8:30pm until late
Advanced Tickets: $25 plus taxes and service fee
Tickets at Door: $30 plus taxes
This is an all ages & licensed event



Hi Fada Folk,
Let's Party! The annual adult Christmas party is less than 2 weeks away!!
Tickets go on sale at 8:00PM tonight. Visit www.fadadancetroupe.ca to secure yourself a spot in Emerald City...
YELLOW BRICK TRIP
🔺put on your red shoes and dance🔻
🌽 We have a feeling we're not in Kansas anymore...
🍭 A dash of poppy fields, a sprinkle of flying monkeys and a bevy of munchkins.
🍄 Embark on a night of live dance performances, a costume contest and DJs, Hardtoe, SquareSoundRoundBody, B-Rad, Hendrika.
🐒 Fly, our pretties, FLY!!!!
👠 WHEN: Saturday, December 17th
👠 WHERE: The Exchange | 2431 8th Ave
👠 TIME: 8:30pm until 3am
👠 Advanced Tickets: $25
(More $$$ at the door!)
🎟️ TICKETS GO LIVE TONIGHT!
SUNDAY, DECEMBER 4 at 8pm.
(Link will be in our bio on IG & at www.fadadancetroupe.ca )
Get 'em early!
This party always hits capacity!!! 🌚
Art by the ever AMAZING @karlijessup
About the Exchange
Proof of vaccination is no longer required.
Masks are encouraged.
The Exchange is wheelchair accessible and offers 2 non-gender/wheelchair-accessible washrooms.
The Exchange is an all-ages venue that supports the Safer Spaces Initiative. We do not tolerate any form of harassment, abusive and/or discriminative behaviour. Such behaviour is grounds for immediate removal from the event/venue. If you are experiencing any harassment please ask to speak to a manager.
Prices include taxes and fees - line ups subject to change - no refunds or exchanges
---