Weaves, Marissa Burwell, The Won'ts - Winterruption
Jan 25, 2020
---
---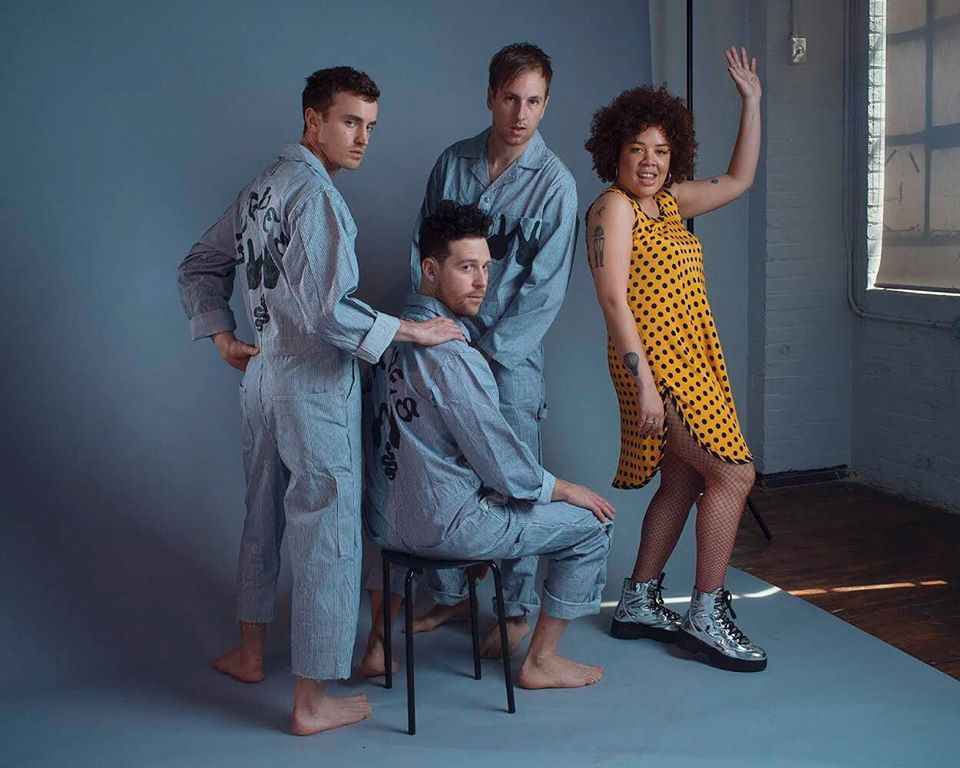 Regina Folk Festival Presents: Winterruption 2020
Weaves with Marissa Burwell & The Won'ts
------------
WEAVES
Weaves aren't fans of the straightforward approach. Big, brash and catchy as they are, they're inclined to take the roundabout route, attacking their music from unexpected angles. One minute they're bouncing through high-energy indie-pop, the next they're putting their own counter-intuitive spin on soul and sultry R&B, tossing in a funk-inflected bassline and thrashing drums for good measure. Threading the needle between musical experimentation and pop satisfaction is not easy but Weaves make it look effortless –a knack that's earned them two spots apiece on the JUNO and Polaris Prize shortlists. After their impromptu After Parties set at this year's festival, we knew we just had to bring them back!
https://www.facebook.com/weavesmusic/

-----------
MARISSA BURWELL
Marissa Burwell is an indie act from the heart of Saskatchewan, known best for her captivating yet endearing performances in basements and coffee shops. On her self-titled EP we see an artist starting to find her sound and it is clear that she is on the verge of something special. Her narrative songs convey feelings of love and loss. Her lyrics are ornamented with carefully considered silence showing her depth and promise as a young singer-songwriter. Though her early shows only featured an acoustic guitar, she's built up a shimmery blend of electric guitar and drums to back up her airy vocals. Marissa Burwell was featured at our annual Sask Sampler this year and we could not get enough of her sweet sound.
https://www.facebook.com/marissaburwellmusic/

----------
THE WON'TS
From the Queen City/Treaty 4 territory, the Won'ts are a couple of 20-somethings and a couple of 30-somethings who consider themselves best friends. They met at a local paint night and while none of them finished their paintings they did go on to finish a bunch of songs anchored with an infectious blend of group harmonies, surf guitars and vintage combo organs that will make up their first album, Weird Weekend in the spring of 2019. Having played with local heroes Surf Dads and The Steves as well as living legend Beverly Glenn Copeland and featuring members of Library Voices, Laska, Trash Hawks, and The Florals. The Won'ts aim to delight and inform.
https://www.facebook.com/thewonts/
------------
Doors @ 7:30, Show @ 8:00
Advance Tickets $27, Door Tickets $35
This show will offer a mix of seats and standing room.
------------
WE WILL RETURN TO YOUR REGULARLY SCHEDULED WINTER IN JUST A MOMENT
------------
Win-ter-rup-tion /ˈwin(t)ər'rəpSH(ə)n/
1. 45+ artists, 13 groups, 5 super cool days, 6 musical shows, 2 venues
2. stop the continuous progress of the coldest season of the year
3. a frosty good time
In 2020, the magical beast that is Winterruption turns 5! As part of the 2019 RFF Concert Series and with a taste of the summer Festival itself, we at the RFF along with our founding partner The Broadway Theatre in Saskatoon will present 5 wonderful days of musical warmth on some of the coldest days of the year. This year we will be expanding across the prairies partnering with Winterruption YEQ and Big Winter Classic in Calgary. On January 22nd through 26th Regina will get a whole lot cooler thanks to Winterruption. Each year varies from each other in form and content but are always unequivocally beautiful successes and we look forward to sharing great music with Regina audiences once again
---