Cancelled - Eluveitie, Insomnium, Infected Rain
Oct 9, 2020
---
---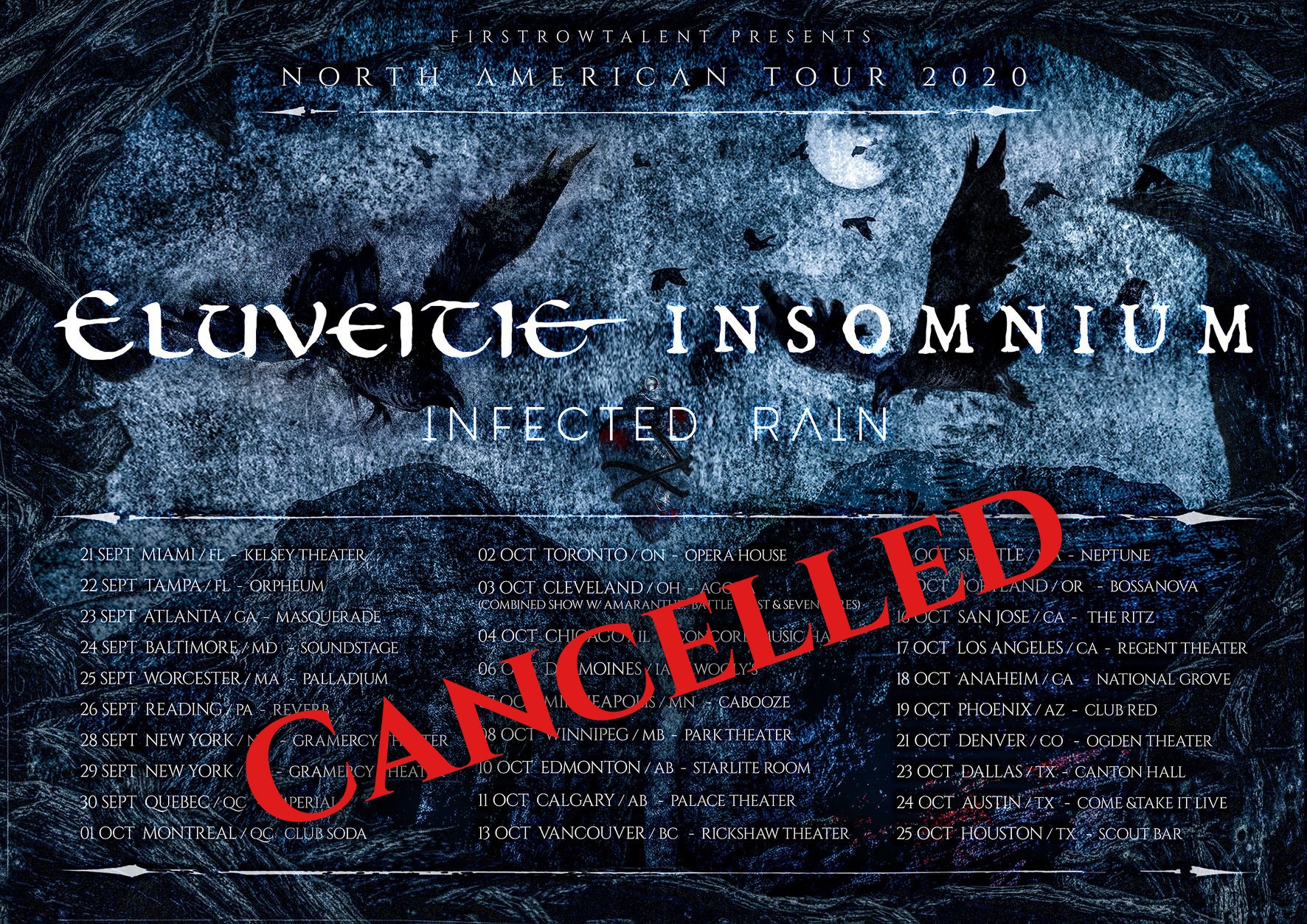 "Dear fellow metalheads,
You all have probably already suspected it - and it is with a heavy and bleeding heart that we have to confirm your apprehension:
Due to the current covid-19 pandemic we are now forced to cancel our upcoming North American tour.
Believe us, we are as much bummed as you are.
Even more since we don't know how long this crazy situation is going to last.
The only thing we can sincerely promise you is that we won't give up, we won't leave you hanging and that we will get a new North American tour up as soon as it will be possible again! And of course we'll keep you posted on this!
And until that day we'll do our very best to still give you as much as we can through the distance! If you're not doing it already, please check our official social media channels as well as those of our particular band members - you'll find a lot of worth watching stuff!
We're with you all! Be safe!"
Online ticket refunds will be issued within the next 30 days.
Thank you for your patience.
Eluveitie
With special guests,
Insomnium
Infected Rain
Friday, October 9
The Exchange
2431 8th Ave Regina, Sk.
All Ages & licensed
Doors at 6pm for VIP tickets, 7pm for General Admission
Advance tickets available at Vintage Vinyl and theexchangelive.ca
Eluveitie's saga of success began just when main-man and mastermind Chrigel Glanzmann decided to form ELUVEITIE with the goal to fuse Gothenburg styled melodic death metal with ancient folk melodies and themes to a powerful mixture that would soon become the "New Wave Of Folk Metal". Of course, all that is history by now and the so-called "studio project" grew into a respected, well-known and active band.
Eluveitie describes themselves as The new wave of folk metal. The band's style incorporates characteristics of melodic death metal combined with the melodies of traditional Celtic music. They use traditional European instruments, including the hurdy-gurdy and bagpipes, amidst guitars and both clean and harsh vocals. Their lyrics include references to Celtic mythology, particularly of Celtic Gaul. The lyrics are often in a reconstructed form of the extinct ancient language Gaulish. The name of the band comes from graffiti on a vessel from Mantua. The inscription in Etruscan letters reads Eluveitie, which has been interpreted as the Etruscan form of the Celtic Helvetios presumably referring to a man of Helvetian descent living in Mantua.
http://facebook.com/eluveitie
http://twitter.com/eluveitie
http://youtube.com/eluveitieofficial
INSOMNIUM
Strange and formidable things may grow from humble beginnings. Back in 1997, in a remote town of Joensuu, beyond the great vast forests of eastern Finland, some teenage metalheads got together to play loud and fierce music, drink beer and have fun. Little did they knew that two decades later they would be saluted as one of the spearheads of their genre, preparing to release their 8th studio album and embark on another world tour.

Consisting of 10 songs and over an hour of music Heart Like a Grave (2019) evolved to be an epic tour de force of Finnish melancholy, drawing inspiration from some of the bleakest tales, lyrics and poems of the north. With four composers in the band the sound of Insomnium is now richer and more versatile than ever before. And yet the essence and core of the music is the same as 22 years ago. The tree grows new branches but the roots go deeper into the black, rimed soil.


INFECTED RAIN
Are you infected yet?
Infected Rain are far from the overly manufactured metal many of us have grown accustomed to.
Their style is an energetic blend of some of the best modern metal styles.
A combination of female screaming, hard riffs and samples created the individual style of Infected Rain.
http://www.infectedrain.com/
---