SOLD OUT! ASL Music Interpreters Course - July 24 - 26
Jul 24, 2019
---
---
50.4564921;-104.61552979999999;2431 8th Ave., Regina Saskatchewan, S4N 5j5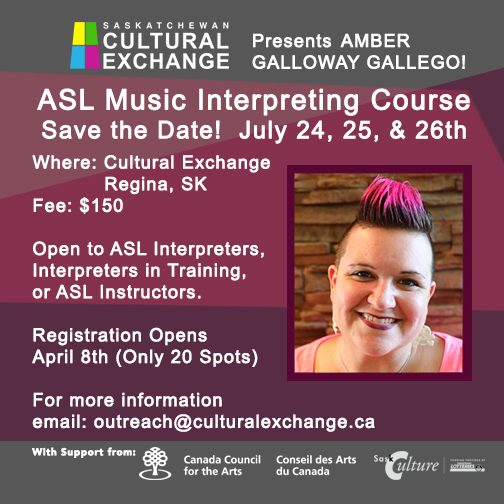 SOLD OUT!
Early bird registration starting April 8
EARLY BIRD REGISTRATION ONLY FOR RESIDENTS OF SASKATCHEWAN, ALBERTA and MANITOBA (refunds will be given to anyone out of those provinces)
DISCOUNT CODES
10% SASK-PARTICIPANT
25% ASL-STUDENT
12 Tickets Available
$150
10% off to Sask Interpreters (Get early Registration prior to rest of Canada)
10% off Sask ASL Instructors (max of 5 spots)
25% off to Students who are currently enrolled in an ASL Interpreters Course
As part of the registration I will ask for proof of students registration in an official course.
ASL Students - just clarifying Students who are training to be Interpreters will be allowed to register. BUT, students who are learning ASL are not open to register. The program is very much focused on training Interpreters so that we can promote them to venues and festivals across the country. I know there are a lot of ASL students who will be excited about Amber being here, but the course is really for practicing ASL Interpreters and Teachers.
We hope that this program will help change the music and festival scene in Canada to start using ASL Music Interpreters on a regular basis.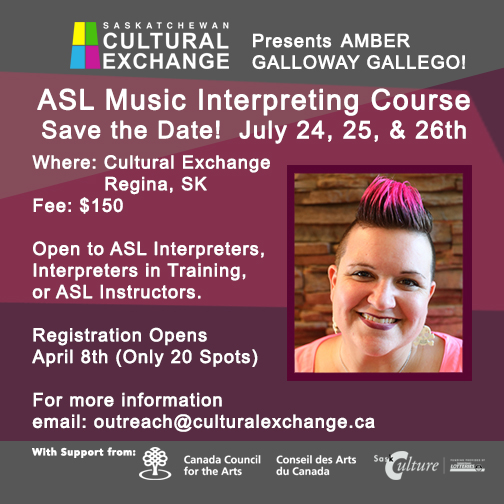 ---